Survey design
About survey design
Designing a survey is the process of adding questions and content to your survey, depending on the information you would like to find out from your respondents. You can access the Design page from within your evaluation at the top of the page in the platform. On the Design page you can add, modify or remove questions.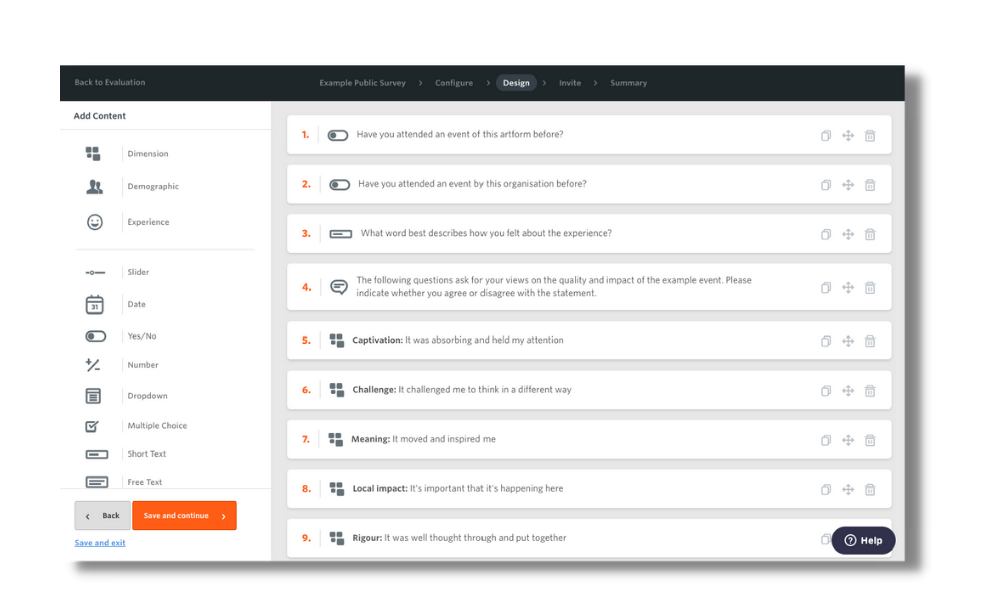 Survey inspiration
Post event survey
The most popular type of survey that we see is the post event survey. This is where an organisation reach out to attendees and/or participants that they have recently engaged with, to understand the outcomes achieved by and event, place or program based on their experiences.
This can also be helpful in determining audience demographics, capturing feedback on their experiences and behaviours and in meas.uring the success of marketing methods
Annual survey
Annual surveys give you the opportunity to reach out to your database as a whole, and potentially capture responses from members who aren't engaged currently, rather than sampling only the audiences that have recently attended your events.
Annual surveys can ask 'big picture' questions about general behaviour and more specifically, engagement with your organisation. Some examples of questions that may be useful to your future programming and marketing strategies include:
Approximately how many times a year do you visit <organisation name>? Question type: Number
Which of the below <organisation name> programs and initiatives have you previously heard of? Question type: Multiple Choice
What have been your reasons for attending <organisation name or event>? / What have been your reasons for not attending <organisation name or event>? Question type: Multiple Choice
Overall perceptions of your organisation using your dimension statements. Question type: Slider
Example survey – try it for yourself!
Here is an example of a general survey created for a demo arts organisation called Gallery One, based in Sydney for the purpose of this example. Try this survey from both perspectives; as someone who has attended the organisation within the last 12 months, and as someone who hasn't. This is an example of how you can incorporate some market research methods into your general survey to understand who out of your current database are currently engaging, where they are located (local, national, or international), and gather general demographics along with your outcome data.
Once you have a general survey set up for your organisation, you could use this as a template and consider distributing this once each year to compare year-on-year results. This comparative data could be helpful in giving your organisation a 'sense' check of the level of engagement of your wider database.
Adding survey content
In order to add content to your survey, make sure that you are in the Design page of the platform. Simply click on the type of question or content that you wish to add from the left panel, select the option(s) for that question that you desire, and your chosen question will appear in your survey.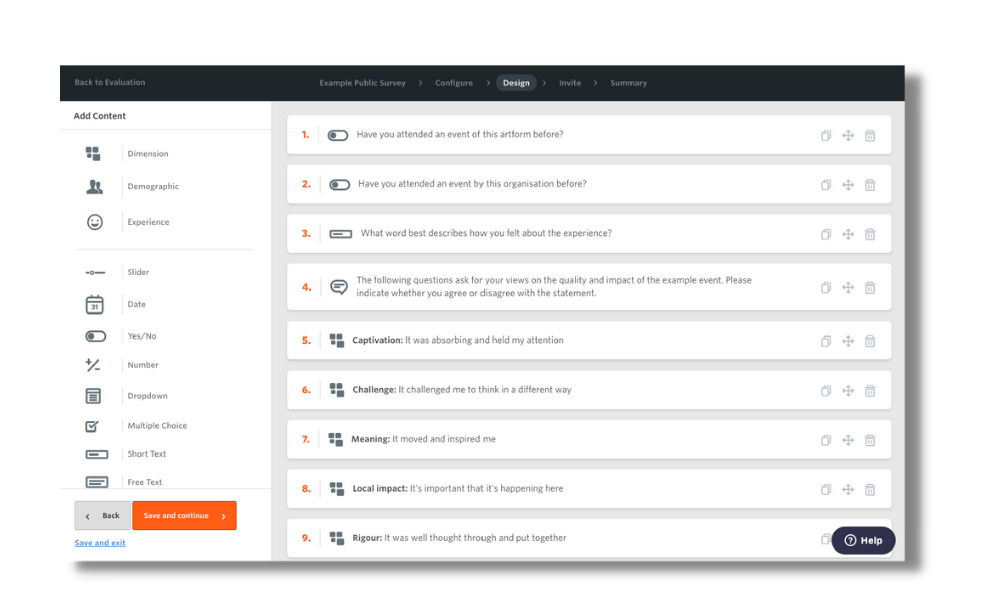 We recommend always using four to six of our standard dimensions (link to terminology), to enable benchmarking and ensure your survey remains speedy for audiences to complete. These should be chosen based on the objectives of your evaluation, but feel free to use whichever mix of questions suit your needs. If you want to learn more about best practice for making surveys in Culture Counts, visit our resources section for more information.