Adding evaluation properties
Once you have set up your evaluation folder with the appropriate surveys for your activity, you can add Evaluation Properties to associate your activity with additional information. You can find the Properties tab in your Overview page next to the Surveys tab.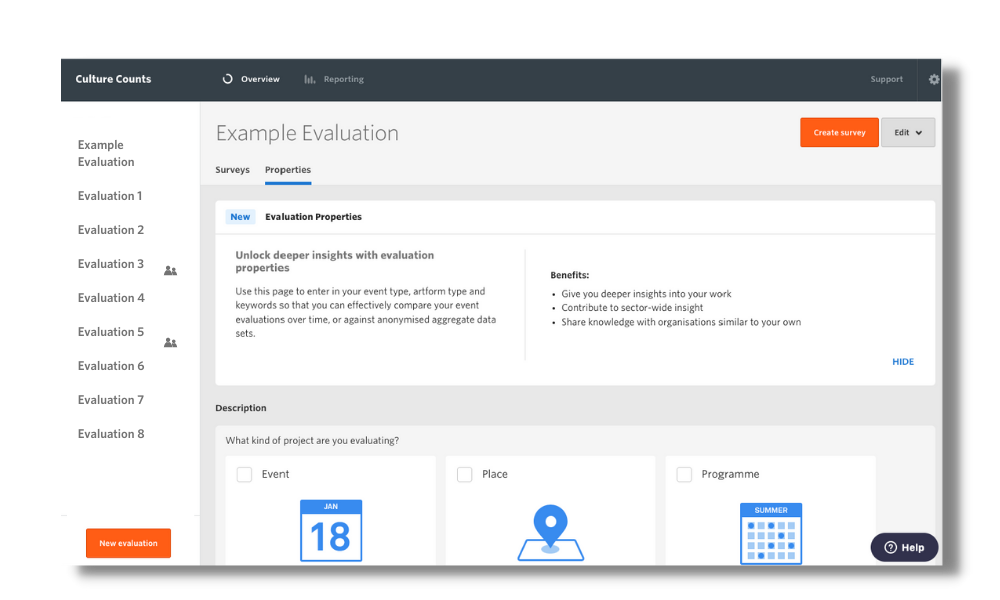 Within Properties, you have the option to add the following to your evaluation:
Description: The type of project you are evaluating (event, place or programme)
Event type and artform type (if applicable)
Keywords: to refine your description
Location: The location of your activity/activities and whether or not it is a touring activity
Attendance: The attendance numbers of your activity or event, if applicable
Adding these properties is completely optional. However, adding them in allows you to gain deeper insights into your work, contribute to sector-wide insight and share knowledge with organisations similar to your own. This is particularly useful if you wish to compare your data across multiple evaluations over time, and if you wish to have your data benchmarked against anonymised aggregate data sets.