Configuring your survey
Survey name
This is the survey name that respondents will see when they access the survey. We recommend giving each survey a simple name that both people in your organisation and assessors will understand, such as the name of your activity and the intended respondent type of that survey: 'My Awesome Event – Public Survey' or 'My Awesome Event Prior Survey – Peer & Self'.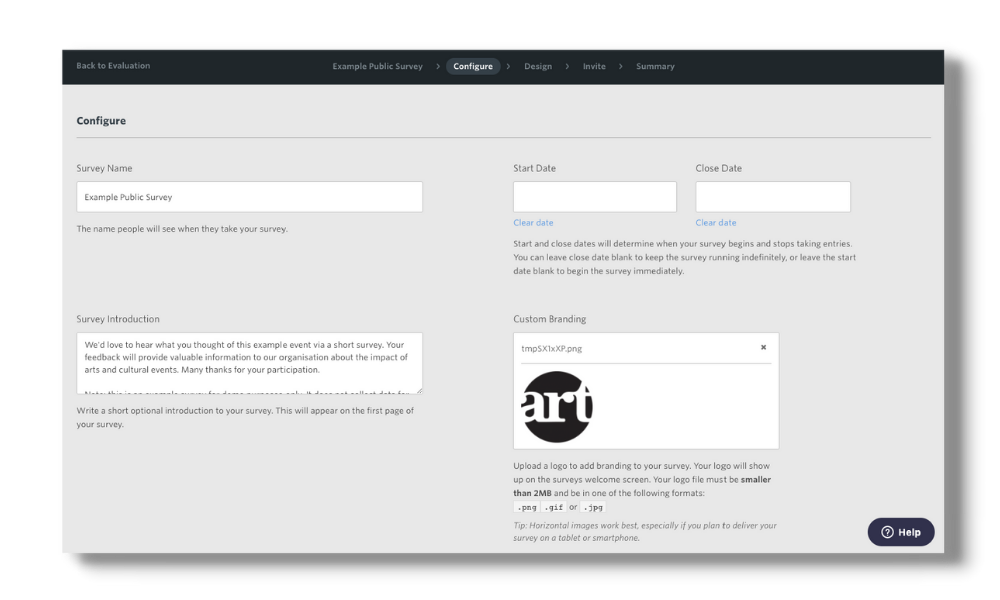 Start and close dates
The start and close dates will determine when the survey begins and stops taking entries. It is fine to leave the start and close dates blank, this just means that the survey can start taking responses immediately and that the survey will remain active indefinitely.
If you choose to input the start and close dates, we advise that you allow for an additional one or two days on either side of the official start and close dates of your event, to ensure that you capture all available survey responses.
Survey introduction
This is where you can write a short optional introduction that will appear on the front page of your survey. This introductory front page will only appear on the Online and Display survey delivery methods, as interviewers delivering the survey by iPad can verbally provide this information to respondents. This introduction is a good place to provide a brief explanation to respondents about why you are carrying out the survey. We also recommend using this space to let your respondents know that any data collected is completely anonymous, so as to reduce any chance of collecting biased responses. See our example below:
"We'd love to hear what you thought! Please share your views on the quality of this event via our short survey. Your important feedback will help us to understand and measure the impact of our events. Please note that your response is completely anonymous."
Note: If you choose to incentivise your survey and plan on collecting email addresses for a prize winner, respondents will maintain their anonymity in regard to their other survey answers. This should also be reflected in your introduction message.
Custom branding
Here you can personalise your survey by uploading your logo, which will appear on the front splash page with the survey introduction text.
Advanced options
At the end of the Configure page, you will be presented with an Advanced Options section. These advanced options include the ability to:
Hide the average dimension scores from respondents after they have completed a survey.
Direct respondents to a specific website upon completion of a survey via a finish URL (such as to your own website or home page).
Add an activity timeout to your survey (which will reset the survey if the respondent is inactive for a period of time).
Add a response expiry to your survey. By default one response is allowed per device. Adding an expiry will allow an additional response after the set time period expires.