Delivery options
There are three delivery types which you can choose from to distribute your survey. Selecting one or more delivery options will automatically configure additional survey settings to correspond your chosen survey delivery methods. You will be provided with further instructions on how to deliver the survey when you've completed the set up process. Culture Counts currently provides the following delivery types: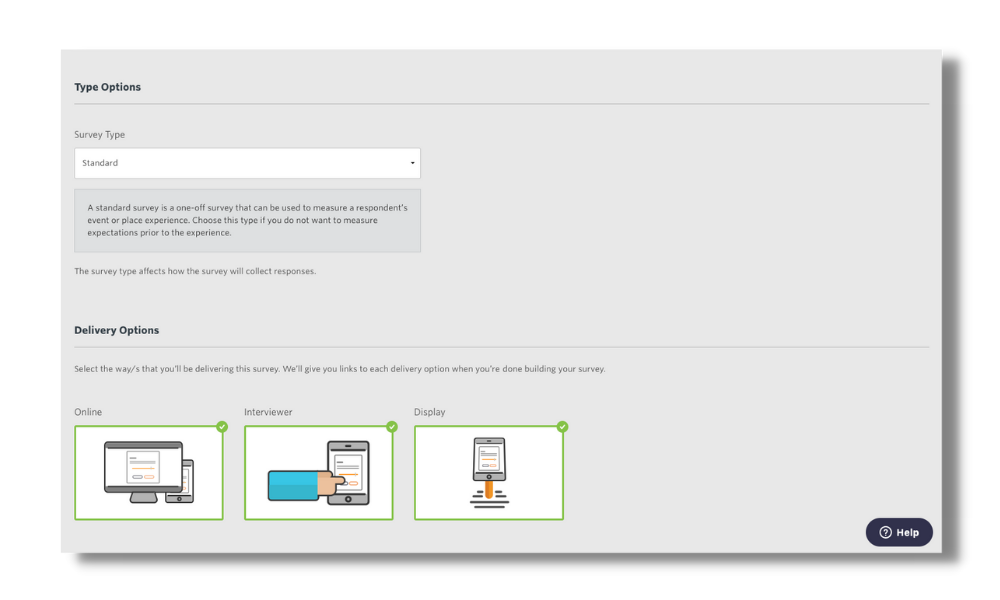 Online Survey: to be taken by respondents online via email, social media or on their own smart phones or devices. Online surveys can not be reset, so they can only be taken once by respondents.
Interviewer: to be facilitated by an interviewer with a tablet computer or iPad. Interview surveys automatically reset after each response, so that multiple responses can be recorded on a single device.
Display: to be displayed on a device at a set location, such as a fixed podium or a library computer. Display surveys also automatically reset after each response.
Select all of the methods that you wish to use to deliver your survey. You can use any or all three methods. A unique survey link will be created for each method, and will be displayed clearly on the Summary page at the end of the survey builder.