The City of Perth commits over $5 million dollars each year supporting community and partners through its extensive sponsorship and grants program.
As part of this sponsorship, it jointly supports organisations and events that also receive investment and support from the West Australian State Government, through the Department of Local Government, Sport and Cultural Industries (DLGSC).
Working with Culture Counts, the City evaluates the outcomes of its sponsored events, using a shared evaluation framework between it and DLGSC that has been designed to speak to the strategic priorities and investment principles of both organisations including artists, their peers and the general public. The development of a shared outcomes evaluation methodology employed between different levels of government is a new and innovative application of the Culture Counts system. All data collected contributes to the transparent accountability process of public investment and ensures that organisations link their strategic intentions to that of their funders. The referees (commonly funded organisations in 2018) outline how this innovative approach simplified data collection and improved reporting through technology.
The evaluation methodology:
Collects responses from multiple sources including, artists, their peers and the general public.
Ensures data collected contributes to a transparent process of public investment.
Encourages organisations to link their strategic intentions to their funders.
Is an innovative application of the Culture Counts system to create a shared outcomes framework between different levels of government.
In 2019, the City of Perth and DLGSC received the Institute of Public Affairs WA (IPAA) award for best practice in public evaluation, presented by the Australian Evaluation Society, for this innovative collaborative approach to outcomes evaluation.
"Christmas Symphony is simply a beautiful event full of love, joy and wonderful music…Great event!"
Public Respondent – Christmas Symphony
Read report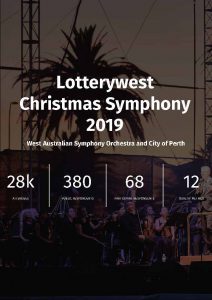 Requirement
In 2018, DLGSC supported 39 organisations through its organisational investment program. In the 2017/18 financial year, the City of Perth invested $2.6m in supporting 57 events. There were five organisations that received joint funding from the City of Perth and DLGSC:
Awesome Arts Australia
Perth Institute of Contemporary Arts (PICA)
West Australian Opera
West Australian Symphony Orchestra
Perth Festival
Both the City of Perth and DLGSC sought to evaluate the outcomes of their investments and were already using Culture Counts for this purpose.
Approach
To streamline evaluation, all organisations conducted a single evaluation using Culture Counts and produced a single report that, through a shared outcomes framework, fulfilled the acquittal requirements of both DLGSC and the City of Perth. Culture Counts worked with each organisation to design a strategic aligned evaluation framework, that spoke the goals of each investor as well as the artistic and strategic ambitions of the event organiser. This represented a significant reduction of administrative burden for reporting and evaluation for non-profit arts organisations.
Outcome
Culture Counts generated a single outcomes report that organisations could use to meet their acquittal requirements to DLGSC and the City of Perth. The evaluation also successfully provided key insights for organisations as well, as outcome measurements were aligned to the strategic goals of each event organiser.
By employing a flexible evaluation framework and using a centralised evaluation platform such as Culture Counts, DLGSC and the City of Perth have also been able to support and encourage evaluation activity across their shared funded portfolio of third-party arts and cultural organisations. A flexible outcomes framework means that both DLGSC and the City of Perth can co-invest in the same organisations and receive an outcomes-based evaluation and reporting output that meets their distinct needs and directly relates to their investment principles.
References
Featured Product
Online Insights Report
Showcase your outcomes, performance and achievements with a stunning online report.