In 2015, after a successful experience with Arts Access, The Ian Potter Foundation piloted the use of the Culture Counts Evaluation Platform with four of its grant recipients; The Australian Book Review, The Museum of Contemporary Art, Windmill Theatre and the University of Tasmania Arts. Since then, Culture Counts has gone on join The Ian Potter Foundation Evaluation Pool (TIPFEP) for evaluating its arts and cultural investments.
The essence of Culture Counts evaluation (and meaningful evaluation in general), is tied to asking the right questions. In order to create art that creates impact—such as empowering, challenging and inspiring audiences—organisations need to measure these outcomes to understand if they are occurring. Evaluation gives the greatest value to organisations that take time to reflect and interpret their results and can then communicate impact simply and effectively to different stakeholders.
Culture Counts supports organisations on this evaluation journey, with tools and training that encourages learning and growing through the evaluation process.
"…there is a high correlation between organisations that are nimble and looking to learn (and those) that are getting that ongoing funding and leverage."
Dr Squirrel Main, The Ian Potter Foundation
Watch the webinar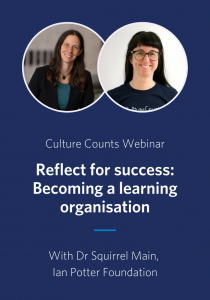 Requirement
The Ian Potter Foundation is a major Australian philanthropic foundation that supports and promotes excellence and innovation. The Foundation was established in 1964 by Australian financier, businessman and philanthropist, Sir Ian Potter (1902 – 1994). The Ian Potter Foundation annually awards approximately $30m of grant investment, having contributed over $350 million to thousands of projects, both large and small, since its establishment.
Much of the Foundation's support is through multi-year investment and for this reason, the Foundation is particularly focused on supporting reflection and learning as part of its investment principles.
'Impact measurement' is of keen interest to every philanthropist – what's the endgame? Measuring long-term changes catalysed by organisations receiving support seems a simple enough concept, but when faced with a myriad of incomplete spreadsheets and missing data, the reality can be very daunting. As Dr Squirrel Main of The Ian Potter Foundation says "…and that's when you actually know what you are measuring."
The Foundation needed a way in which the impacts of their investments could be easily and accurately articulated – to narrow the guidelines, improve efficiency, champion reflection – and to focus their giving so it is could become more effective.
Approach
Culture Counts worked with Arts Access in 2014, as part of a pilot of the Evaluation Platform with Arts QLD. The Foundation was also a supporter of Arts Access, and after seeing the evaluation report delivered by Culture Counts, were inspired to trial the approach with four organisations that received grant funding from the Foundation; The Australian Book Review, The Museum of Contemporary Art, Windmill Theatre and the University of Tasmania Arts.
Using survey templates available in the Evaluation Platform, Culture Counts provided organisations with support and training to conduct a strategically aligned evaluation of their activities by:
Establishing the outcomes they wanted to achieve (and confirming the outcomes they said they would achieve)
Building an evaluation framework that could measure these outcomes
Supporting organisations to interpret and reflect on their results
Summarising results for The Ian Potter Foundation
The trial was conducted over a year, after which organisations could choose to engage with Culture Counts directly, as part of The Ian Potter Foundation Evaluation Pool panel.
Outcome
The pilot of Culture Counts mirrored previous and parallel pilots with Arts Queensland and Creative Victoria. The purpose of the pilot was to test a standardised approach to outcomes evaluation and assess its practicality and value to both funded organisations and their supporting funder.
The pilot has lead to the continued development of tools and processes within the Culture Counts Evaluation Platform, based on feedback provided by organisations as part of the pilot. Our ongoing development into reporting tools and metric selection is a direct result of this feedback.
From the perspective of the Foundation, there is immense value in standardised outcomes data. Their choice to use outcomes data as part of their investment decision-making means that they can be guided by more than just 'outputs' – the activities that their partners undertake – and by the actual 'outcomes' that partners deliver – the change they create.
References

Image attribution: Unsplash
Featured Product
Culture Counts Evaluation Platform
Easily create and distribute surveys, collect consistent feedback, monitor your progress and report your impact.