Telstra has partnered with state governments to deliver Tech Savvy Seniors, an ongoing program designed to increase digital inclusion amongst Australian seniors.
Digital inclusion means being able to access, afford or have the digital capability to connect and use online technologies effectively. Telstra's aim is to ensure that all Australians have access to digital infrastructure, services and products; and the confidence and ability to maximise their use and value.
The Tech Savvy Seniors program assists seniors to develop the skills and confidence to use technology for socialising, accessing online services or conducting personal business. This contributes to improved personal well-being, enhanced social participation and improved access to important information and services that support active ageing.
Over the past four years, Culture Counts has worked with Telstra to evaluate the impact and report on outcomes from over 20,000 participant survey responses. We spoke to Heather Rea, Senior Specialist in Telstra's Sustainability Centre of Expertise about how our recommended evaluation strategy has helped demonstrate the program's immense impact.
Requirements
Telstra needed a digital evaluation approach to help them understand whether participation in the Tech Savvy Seniors program was achieving the desired digital and social inclusion outcomes within ageing communities.
Telstra required real-time data on how individual local programs were operating, with the ability to stay close to participants and trainers to ensure that the offering met their needs in an ongoing way. Being able to share data with program and delivery partners was essential to demonstrating the meaningful contribution being made both locally and overall, along with providing insights on how the program could be improved.
Ms Rea states, "Evaluation is essential. We want to ensure this program is having a significant and ongoing impact on building the digital skills and confidence in older Australians".
Approach
Since 2017, Culture Counts' digital evaluation methodology has enabled Telstra and delivery partners to consistently measure the experiences and outcomes of the Tech Savvy Seniors courses for participants nationally. This reporting process has facilitated both ongoing dialogues with older Australians and digital access to a big data set of results.
Ms Rea says that setting out the social impact framework at the beginning of the project was fundamental in ensuring that the program was built around the outcomes Telstra wanted to achieve: "The online survey methodology reinforces course learnings while capturing immediate course outcomes such as confidence and knowledge in using digital technologies; short-term outcomes including increased use of digital technologies; and longer-term outcomes such as wellbeing, social participation and active ageing."
Trainers also record important program statistics, generating a large database of evidence on the impact and value of the program.
A big data dashboard is updated quarterly, showing aggregate insights of the program for advocacy purposes, in addition to enabling data to be filtered and interrogated in many ways to understand and make changes that can help maximise benefits.
"The dashboard provides a quick and easy way to convey a lot of information. Being able to easily convey the outcomes achieved has helped to build trust and credibility", says Ms Rea
"The reporting enables us to go beyond "numbers" to show impact. It enables our team to tell a story about the changes that have occurred for individuals as a result of the program."
Heather Rea, Telstra
Read Summary Report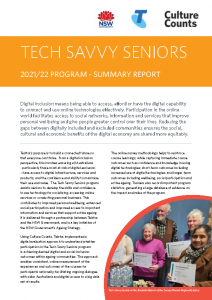 Outcome
Since 2017, Culture Counts has collected 22,000 survey responses from seniors participating in more than 7,000 Telstra Tech Savvy Seniors' sessions around Australia. This includes over 2,000 responses in nine languages other than English, with the big data set showing many strong positive outcomes of the program and demonstrating the vital importance of digital capabilities in helping seniors connect with the online world.
Ms Rea said, "Investing in this reporting over a period of years has enabled us to track progress over time and demonstrate the ongoing value of the program. It has also enabled us to share results with others to help them in setting up similar programs".
In 2021, Telstra was ranked third in the Global Digital Inclusion Benchmark survey, ahead of Apple, Cisco and Microsoft. The benchmark measures and ranks 150 of the world's most influential technology companies on their responsibility to advance a more inclusive digital society. In reflecting on this tremendous achievement, Ms Rea says,
"The Tech Savvy Seniors evaluation has brought together the combined insights of a program delivered in more than 300 locations across Australia, each week, in a way that brings coherence to the outcomes being achieved. It makes sure every location and every session is "seen", "considered" and "worthwhile" in the contribution it makes to individuals, but also in helping to close the digital divide in Australia".