Art Month Sydney is an annual festival celebrating the significance and vibrancy of Sydney's art scene. Operated by the not-for-profit organisation, Australian Art Events Foundation, the festival provides a platform for emerging and established artists to showcase their work to art enthusiasts, contemporary art lovers and collectors.
Requirements
The Australian Art Events Foundation engaged Culture Counts to conduct an evaluation of the festival by surveying members of the general public. In partnership with Culture Counts, this survey was designed and developed to evaluate the strategic goals and outcomes of the Australian Art Events Foundation and Art Month Sydney.
Approach
To report on the outcomes achieved by the 2022 festival, Culture Counts recommended Art Month Sydney collect survey responses from public attendees using the Culture Counts Evaluation Platform. An Economic Impact Assessment was conducted to gain insight into the economic activity generated as a result of attendee spending at the festival and in the local area. An Online Insights Report was created to showcase key insights including audience behaviour, outcomes, year-on-year comparisons and marketing.
"The reporting that Culture Counts provides enables the festival to target key areas to review, reshape and evolve."
Art Month Sydney
Read the report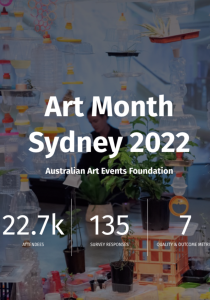 Outcome
Culture Counts spoke to Art Month Sydney about the 2022 evaluation approach and how it helped them to better understand the intrinsic outcomes of the festival and apply learnings to the planning for the following years.
When asked what they felt were the biggest takeaways from the evaluation, Art Month Sydney noted that "the key takeaway from this year was seeing a shift in the festival's core demographics" based on evaluation insights that demonstrated that the 2022 festival attracted an older audience than the previous two festivals, and a larger proportion of respondents who identified their gender 'in another way'.
They noted that "the festival's funders and stakeholders love to see the year-on-year comparative data" which was presented throughout the report, including demographics, patron experience and cultural, social and economic outcomes. Comparative data illustrates how key aspects of an event have evolved over time, and allows an organisation to consider whether it is the result of particular strategies and/or external factors.
Art Month Sydney also said the Online Insights Report has influenced all aspects of the festival's planning, including its programming, marketing and development functions. This considered evaluation approach has become integral to the festival's year-to-year operations, with the client saying, "The reporting that Culture Counts provides enables the festival to target key areas to review, reshape and evolve."
Are you interested in Culture Counts for your organisation? Contact us to receive a copy of our Product Guide.
Featured product
Online Insights Report
Showcase your outcomes, performance and achievements with a stunning online report.