The team has been quite busy these past few months! We have been working hard behind the scenes to update our analytics dashboard, integrate new survey templates and revise our dimension framework. But we have also made sure to pause and celebrate the wonderful work our clients have been doing when it comes to collecting valuable and insightful data.
Client Stories
"It was heart-warming to receive such positive, enthusiastic, and meaningful engagement from our community via the Culture Counts survey."
– City of Albany Library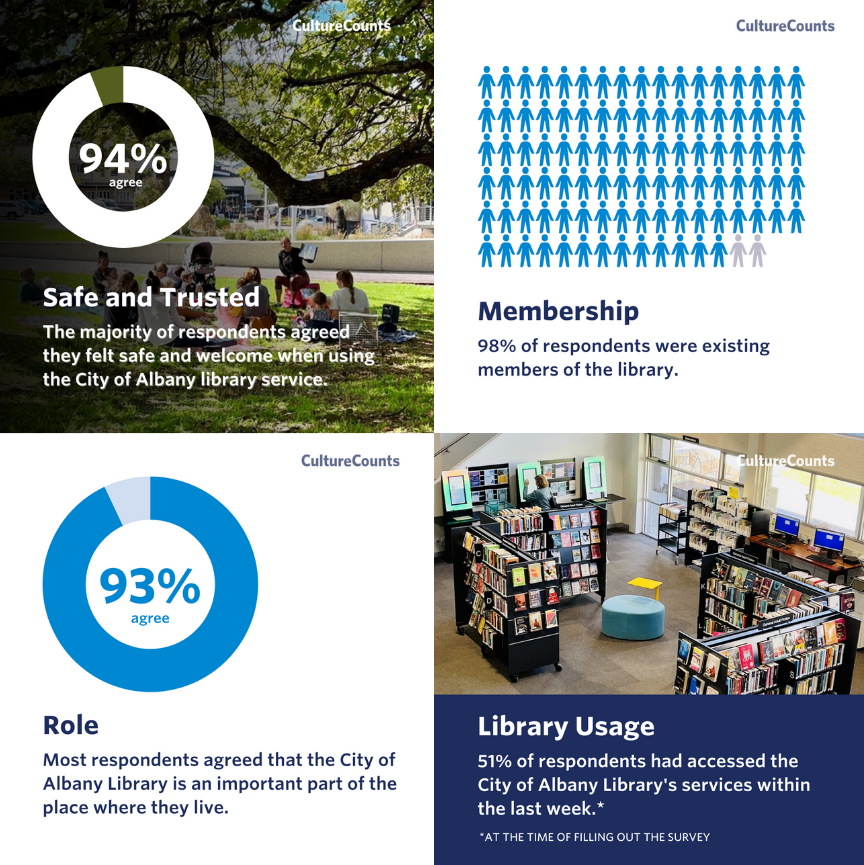 Product Updates
Two major updates went live over the last few months – our revised dimension selector and templates, and an update of the Analytics Dashboard.
The latest features make it easier to collect consistent data across multiple surveys and to effectively measure outcomes across your evaluations. Read more about Survey Templates here.
The streamlined dashboard includes new chart types and allows users to compare and filter their data in each chart – providing opportunities for deeper data analysis. Read about our Analytics Dashboard here.
Resources
Events
Product Director Jordan Gibbs travelled to Cairns to present at this year's Australian Performing Arts Exchange, alongside Geelong Arts Centre CEO Joel McGuinness and independent consultant Merryn Carter. The session explored key findings from the GAC audience research project.
Client Relationship Officer Shelley Timms hosted a webinar for members of the Global Association of Literary Festivals, all about 'making data count'. The webinar had a great turn out, with festivals joining from around the globe to learn about evaluation techniques.
We are also excited to announce that we will be taking Culture Counts on the road in October! Our Outcomes Measurement Masterclass will be taking place on the 26th October in the City of Busselton. For more information and to book your tickets, visit our Eventbrite page.