Survey logic is the process in which you hide or show questions based on their relevance to particular respondents.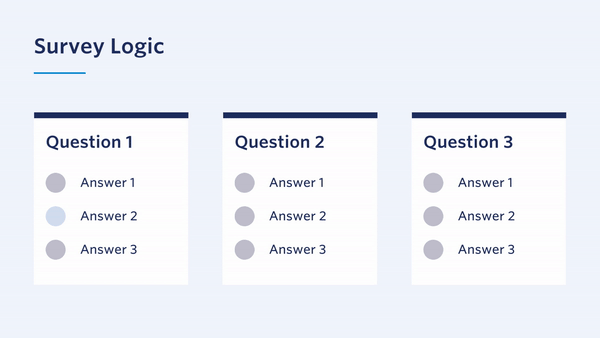 Benefits
Survey logic is a handy thing to have in your evaluation toolkit. Here are a few benefits:
Keep surveys short by only showing relevant questions to each respondent

Increase data quality by asking followup questions based on a previous response

Helps to keep respondents engaged as the survey can feel tailored to them

Increase survey completion rate and minimise drop-off by improving overall survey experience
Top tips to apply survey logic
Create and complete your survey first, including all the questions you want to include. It's easier to apply survey logic when you can see the big picture.

Apply your survey logic. In the survey builder, click on the question you want to apply logic to and select the logic 'tab'. Logic considers four parts:

Visibility: choose whether to hide or show the question

Trigger: determine the property that the survey logic is tested against. E.G. respondent's answer to the question

Condition: select the condition to be met against the trigger and value. E.G. 'is equal to'

Value: set the respondent's value to the trigger. E.G. 'yes'

Test! Make sure the survey logic is working the way you want it to by using the preview survey link. Failing to test is the number one reason why things break. If the logic didn't work as intended and you don't find out until after you've collected responses, it's already too late.

Send your survey.
Watch our video on applying Survey Logic as Culture Counts Client Manager, Nicole Tan Emery walks you through the steps.
---