We are excited to launch the latest feature in the Culture Counts Evaluation Platform! The Question Bank is a library of predefined questions that you can easily add to your next survey.
The Bank includes questions that commonly form part of an evaluation, with categories like; marketing, patron behaviour, tourism, first-time engagement and demographics. Culture Counts' Business Development Director, Jordan Gibbs, shares the research and methodology behind the new feature.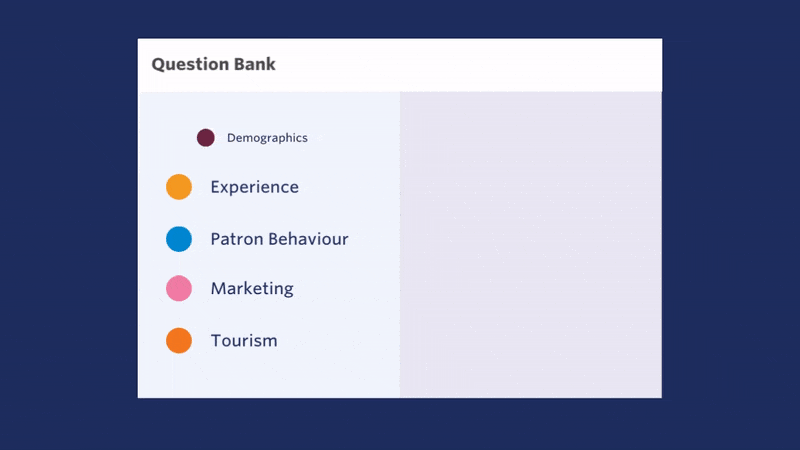 Background
In 2020, we released a new set Experience Questions in our survey builder. These were some of our most frequently requested questions; those being Net Promoter Score and Overall Experience. They quickly became some of the most popular questions to include in surveys. We wanted to add more standard options and pondered the best way to do it.
Would we create new categories for every type of question? How would this affect the interface? How could we update questions over time? Fast forward to 2022 and following a series of design workshops and development cycles, we are thrilled to release our first iteration of the Question Bank within the Culture Counts Evaluation Platform!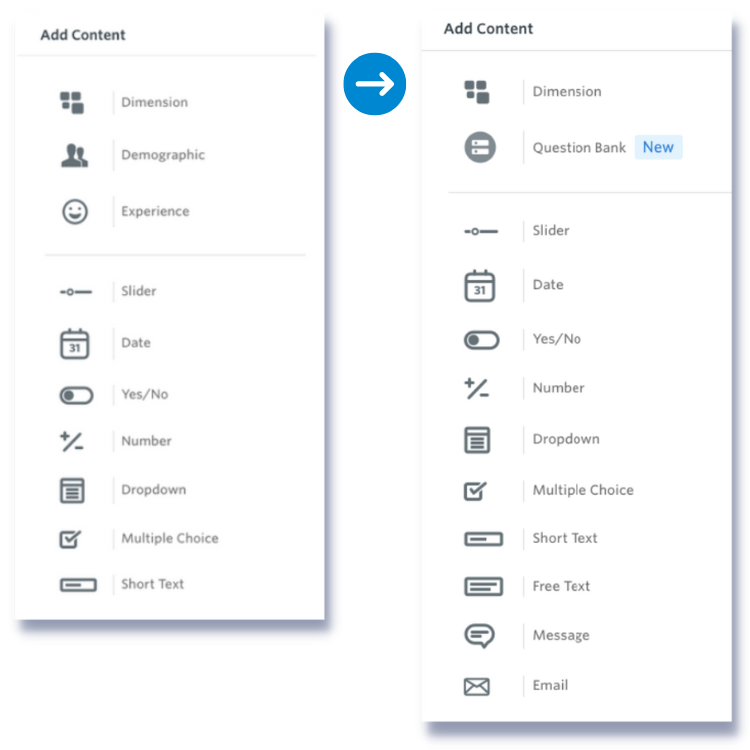 The Question Bank looks to categorise typical or common questions that users want to include in their surveys. These include the standard demographic and overall experience questions, along with new questions and categories like 'identity', 'behaviour' and 'tourism'. Our ambition for the Question Bank is for it to be an expanding library of options and question types. The launch of the feature includes the following categories:
Demographics: captures gender, identity and location

First Time: captures first-time attendance, participation or engagement

Behaviour: records attendance frequency and engagement behaviour

Experience: common indicators like Net Promoter Score and Overall Experience

Marketing: collects survey data for promotional channels

Tourism: helps measure spending, accommodation and visit influence

Qualitative Feedback: common options to record qualitative feedback and comments
How it works
It's easy to add new questions from the Question Bank to your next survey. On the Design page of any survey, simply click on the Question Bank option under the Add Content section on the left. This will open a new window of possible questions to add to your survey, organised by their category.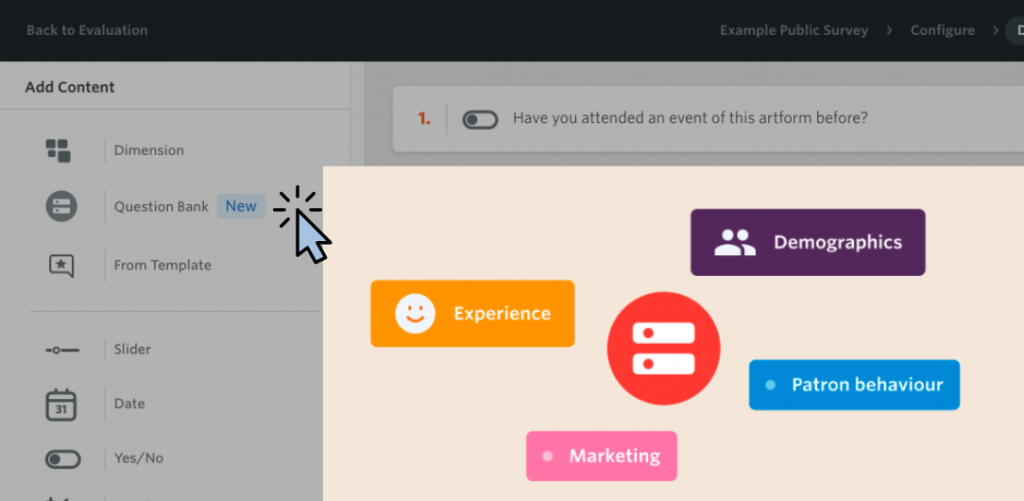 Some other elements to aid discovery and use include:
Search: A search bar at the top of the window to narrow down the question options you'd like to see.

Categories: Question types that are only available to your organisation or to a small cohort of organisations (e.g. Libraries) are listed underneath your organisation's name, whereas questions that are available to all users are listed under 'Categories'.

Customisation: Flexible fields will allow you to customise questions and add additional context for survey respondents.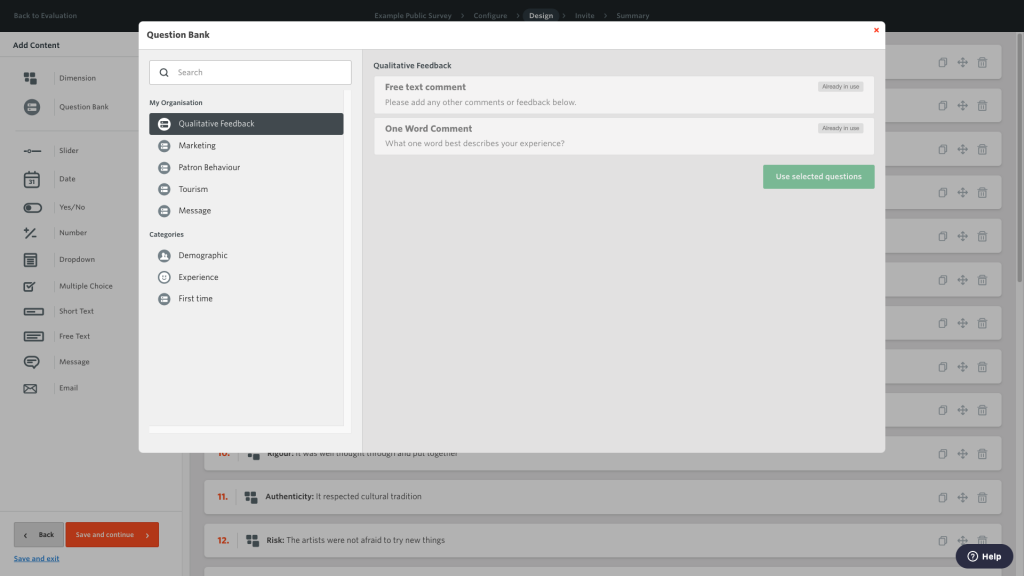 Flexible fields are an awesome inclusion in this release. The fields enable users to include additional context for survey respondents and update question text, while still keeping the core element of the question the same. For example, you could personalise the subject type of a question with your organisation's name as shown below.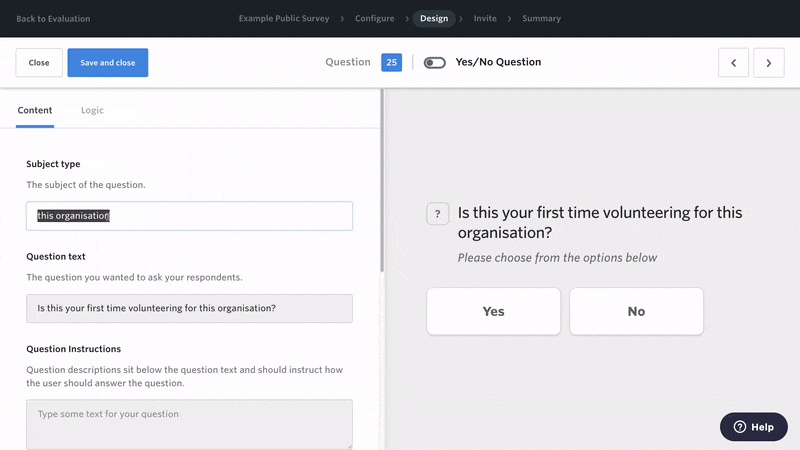 For more information on Question Bank feature, visit our Support Hub.
Research and potential
In 2021, we released research about the most common questions that users included in their surveys. Approximately 50% of the Culture Counts database is made up of custom survey questions. Looking at over 136,000 survey questions in the Culture Counts database, it was clear there were six key categories of questions that users were including:
Additional Comments (9,058 or 6.6% of all questions)

Pre-Dimension Messages (6,723 or 4.9% of all questions)

Identity (6,218 or 4.5% of all questions)

Marketing (i.e. how did you hear about this event) (4,777 or 3.7% of all questions)

Prior Attendance (4,483 or 3.3% of all questions)

Economic Impact (3,980 or 2.9% of all questions)
We've sought to use these categories to build a bank of survey questions that users are already asking, but there are many more possibilities this feature inspires and we expect to grow this feature as time goes on.
We've seen the value that organisations have found in collaborating on shared research projects and it demonstrates the power and potential this feature can have going forward. It creates opportunities for peak bodies and funders to develop tools and standards for organisations to implement, leading to better ways to understand the diversity and experience of audiences in a more sustainable and innovative way than ever before.
We're excited by the release of this feature and are looking forward to seeing how people experience it. If you have ideas about new opportunities for its use, please get in touch at hello@culturecounts.cc.
---
Interested in finding out more about the Culture Counts Evaluation Platform?