Funders and grant-makers typically ask applicants to describe their approach to evaluation. We've put together some suggestions around common assessment criteria, planning your evaluation strategy, and using data to support your new application.
Create your evaluation plan
When applying for funding, you will be asked to provide information against key assessment criteria. To gain a competitive advantage, it's best to be able to provide information and supporting materials that demonstrate your ability to meet the criteria. This is where data can be your best friend – providing visible evidence of your impact
Familiarise yourself with the funding assessment criteria as early as possible.
Successful applications demonstrate a strong understanding of what the funder values, how you have achieved these outcomes in your previous work, and how you plan to use the funding to grow your impact.
Be proactive about data collection.
An evaluation plan is an important tool to help you collect the right data that responds to the assessment criteria. Providing a clearly thought-out evaluation plan as part of your application will show your funder that you will be organised and rigorous in collecting and reporting on the impact of their investment.
Who is the data for?

What measures are required to meet the funding criteria?

When do you need to collect the data?

How will you collect the data?
We've created an Evaluation Plan template to help get you started.
Align with your funder's strategy
In your funding application, you may see questions asking how your organisation's vision and activities respond to the funder's strategic objectives. Conducting a strategic alignment is an effective way to help you communicate how your strategies align with funding requirements. This useful process can help you choose meaningful measures and design effective surveys that ensure you collect the data needed to demonstrate your impact and your achievement of funding criteria. You can read more about identifying outcomes and aligning metrics in our Support Hub.
Share your impact
For many cultural organisations, the objective of their activities, programs or events isn't solely to generate spending, but rather the impact they have on people's lives.
It can be difficult to measure the change experienced by people engaging in an activity, and hard to report on the holistic and far-reaching impacts of your work. At Culture Counts, we use metrics called 'dimensions' – standardised statements that respondents can agree or disagree with by ranking their responses on a sliding scale. These dimensions are part of our evaluation framework, designed to help organisations measure outcomes associated with cultural experiences.
Showing your funder that your organisation has clearly-defined outcomes that align with funding criteria, and a data-driven method for measuring and reporting on your achievement of them can elevate your application.
Here is how the framework could help you measure the achievement of the following funder assessment criteria: "creative work that reflects contemporary society".
| | | |
| --- | --- | --- |
| Funder Assessment Criteria | Domain Outcome | Dimension Statement |
| Creative work that reflects contemporary society | Cultural | "It challenged me to think in a different way" |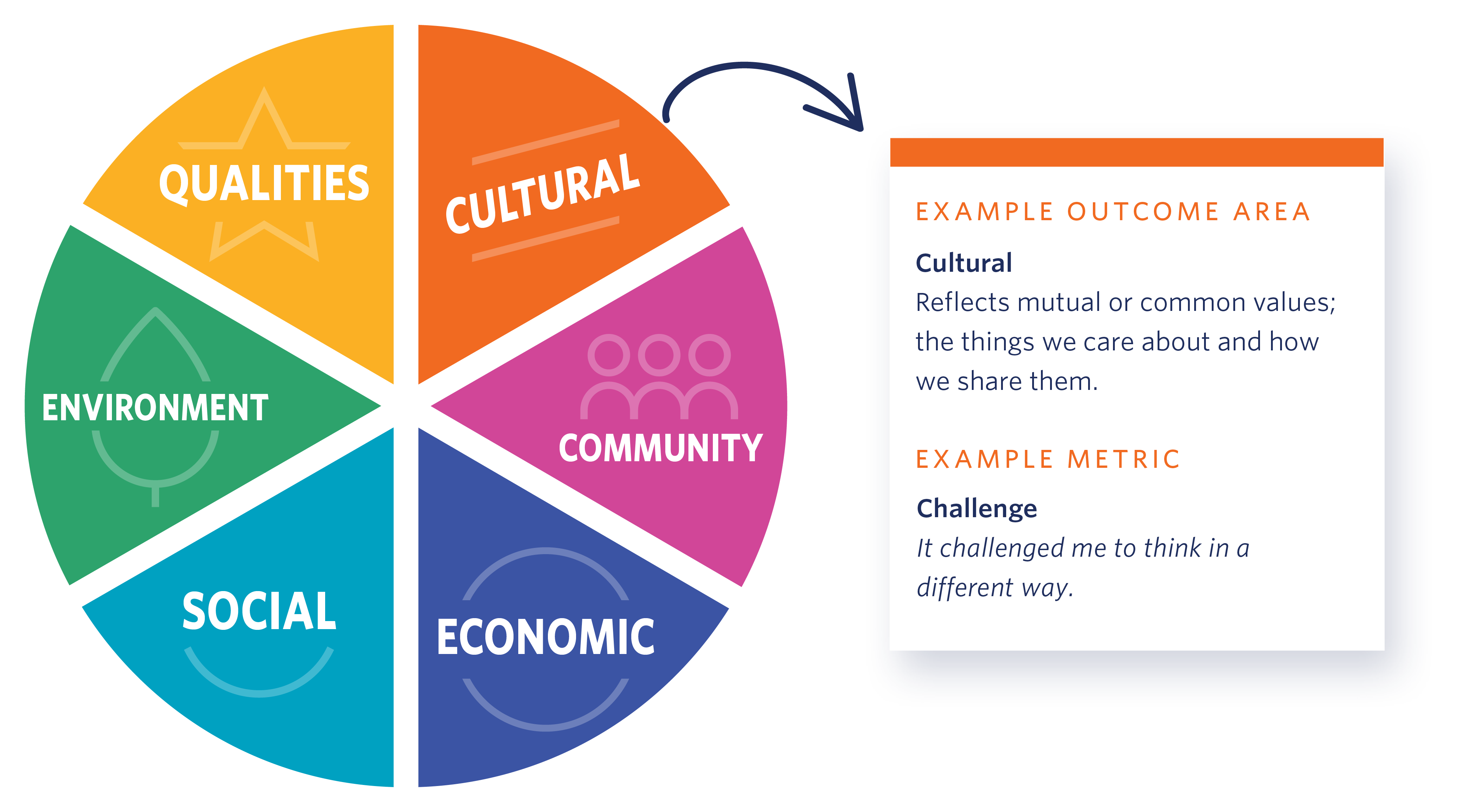 Demonstrate your reach
It is important to show your funder the different communities that engage with your work, and the depth of your engagement with them. Rather than simply forecasting attendance numbers, define your intended audiences in terms of demographics, identities and locations, and then build your surveys to ensure you capture this important data.
When collecting audience demographics, it's good to be as consistent as possible to future-proof the integrity of your data. With consistent data, you can more easily benchmark and compare insights across programs and time.
Collecting other useful information about your audience, their behaviour and experience in a consistent way can help you tell a story to your funders about how you've grown and improved over time. We've collated some of the most commonly used questions in the Culture Counts Evaluation Platform Question Bank. Some example questions to include in your survey are:
Demographics: captures gender, identity and location

First Time: captures first-time attendance, participation or engagement

Behaviour: records attendance frequency and engagement behaviour

Experience: common indicators like Net Promoter Score and Overall Experience

Marketing: collects survey data for promotional channels

Tourism: helps measure spending, accommodation and visit influence

Qualitative Feedback: common options to record qualitative feedback and comments
Learn from others
At Culture Counts we've worked with many arts and cultural organisations like yours. Benchmarking your results against other organisations can highlight your strengths, or demonstrate how you are addressing your weaknesses. Culture Counts can provide anonymised benchmarks for your sector or art form from our big database of cultural evaluations. We've also put together some client stories for inspiration.
"The team will use the findings in the report to support our fundraising drive, and grant applications and to encourage participation in our programs." Centre for Stories
"We now have a better understanding of our audiences, where they come from, why they engage with us and how we can continue to engage with them in the future." Perth Festival
"The ability to consistently evaluate results, especially in areas of high strategic importance, has been vital in our ability to track outcomes and results against investment of time and money." Midsumma Festival
---