Identifying outcomes and aligning metrics
Step 1: Identify your outcomes
Identifying your outcomes is the first step of designing your survey or your evaluation, and arguably, the most important. Having a clear understanding of what the activity is strategically aiming to achieve will make it easier to identify the structure of your survey and how you format your questions.
There are two ways that this can be done; at the organisational level (macro) and at the activity level (micro).
Macro: at the organisational level
One of the easiest ways to identify organisational outcomes is to look at your organisation's existing documentation. This can be done very simply and briefly, by referring to your organisation's vision and mission statements, or via a more in-depth approach by referencing the actions and outcomes highlighted in your organisation's strategic plans (e.g. corporate plan, marketing plan, artistic plan, 4-year programming strategy) and drawing out key objectives from there.
More often than not, key objectives are phrased quite openly. Take a look at the example mission statements below. This highlights some of the important things that the organisation sets out to achieve.
To inspire and strengthen the community, through everything we do — Sydney Opera House

We provide free and equitable access to cultural and educational experiences. We celebrate ideas, promote creativity, connect people and enrich lives —Madison Public Library

We create challenging and inspiring theatre creatively controlled by Indigenous artists —Ilbijerri Theatre Company
There's a diverse mix of objectives represented here; with keywords such as inspiring, challenging, connecting, enriching.
Micro: at the activity level
In addition to organisational objectives, we encourage you to identify objectives that are specific to your activity, some examples;
Appealing to new audiences (geographic reach, or first time attendees)

Being culturally diverse and inclusive

Identifying the particular funding requirements for acquitting any grants received for this activity
Having a combination of both macro and micro-level outcomes in your surveys will ensure that you are collecting strategically relevant data both relating to the objectives of your program, and how these objectives contribute to your broader organisational goals as well.
Step 2: Align your metrics with a strategic alignment
After having identified your objectives, the selection of metrics to use will become clearer. Selecting the appropriate metric will help you to quantify or gauge whether or not your identified objective has been achieved.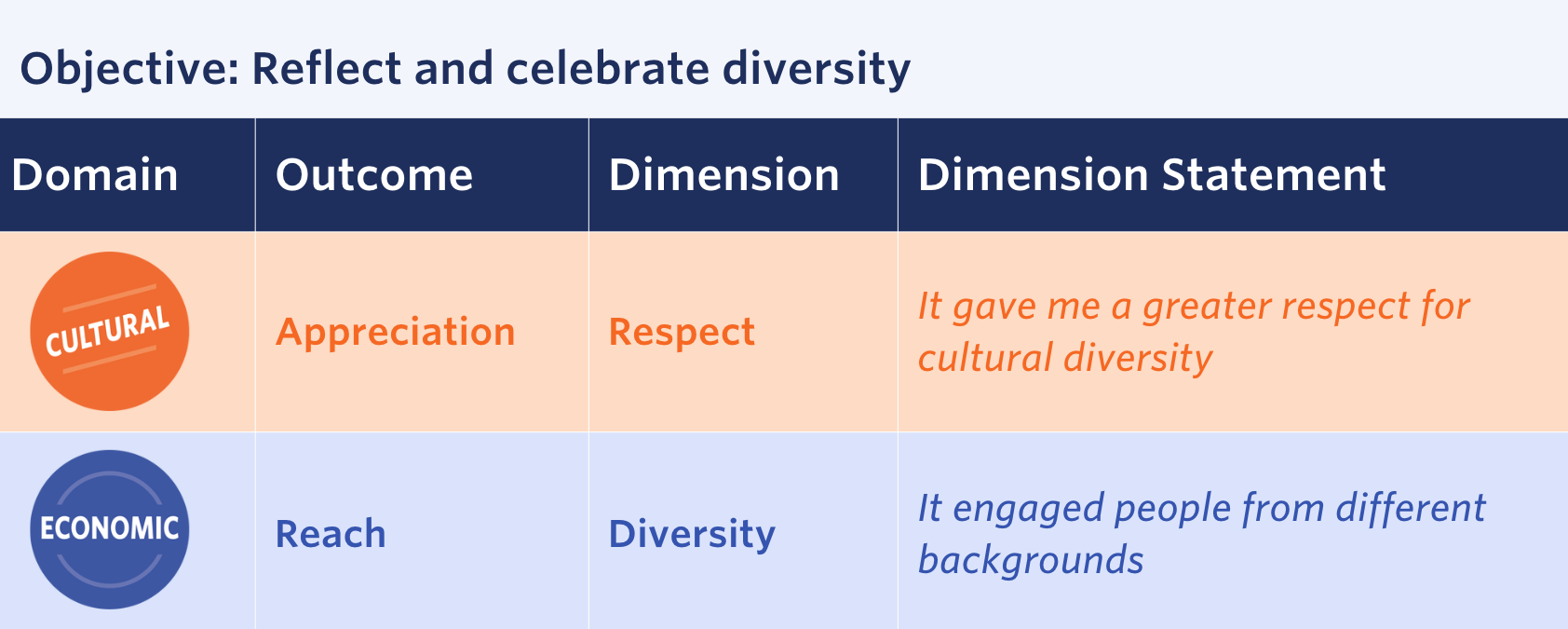 Some brief examples of metrics aligned with objectives here:
Cultural Outcomes
Objective: To provide access to cultural and educational experiences.
Metric (dimension statement): Insight: It helped me gain new insight or knowledge
Social Outcomes
Objective: To provide an inclusive space.
Metric (dimension statement): Safe: It made me feel safe and welcome
Objective: To appealing to new audiences.
Metric (Question Bank): First-time attendance
Additional Resources
Was this helpful?
Let us know if you liked the post. That's the only way we can improve.