Using templates
When creating a new evaluation or survey, you can create one from a pre-existing template. Templates also support dimension lists. If you have created a dimension list you can choose to pre-fill that template with the dimensions you have selected to measure in your list.
Evaluation Templates
An evaluation template comes pre-configured and pre-populated with surveys and survey questions. It can be used to quickly create an evaluation which has most of what you will need already present.
Use the 'create from template' option when creating a new evaluation and select the desired template from the dropdown menu. Clicking the 'Preview' button will open the evaluation and allow you to look through each of the surveys to see the questions they contain.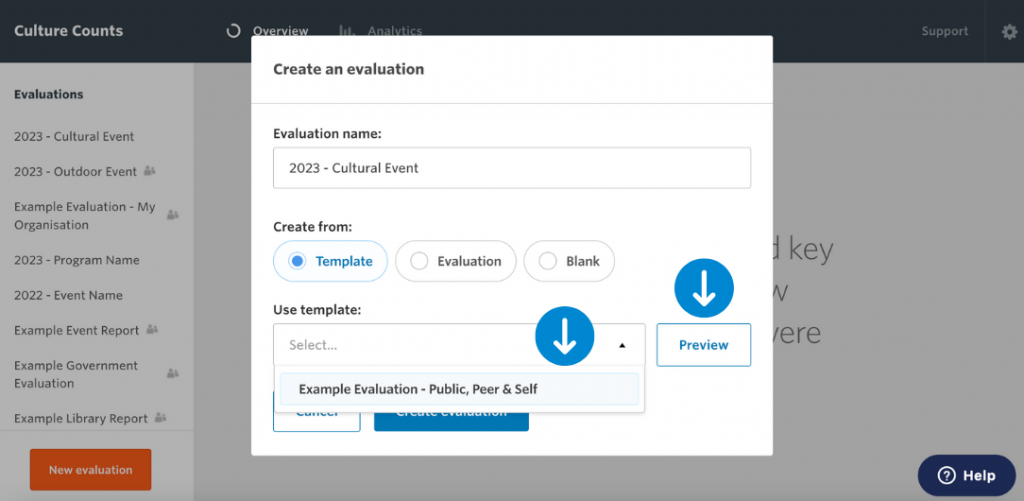 Once you have selected a template, you can choose to select a dimension list. The selected dimension list will automatically populate each survey in the evaluation with the dimensions contained within your dimension list. When you click create, a new evaluation will be created, along with the associated surveys. Click into any of the surveys to start editing them.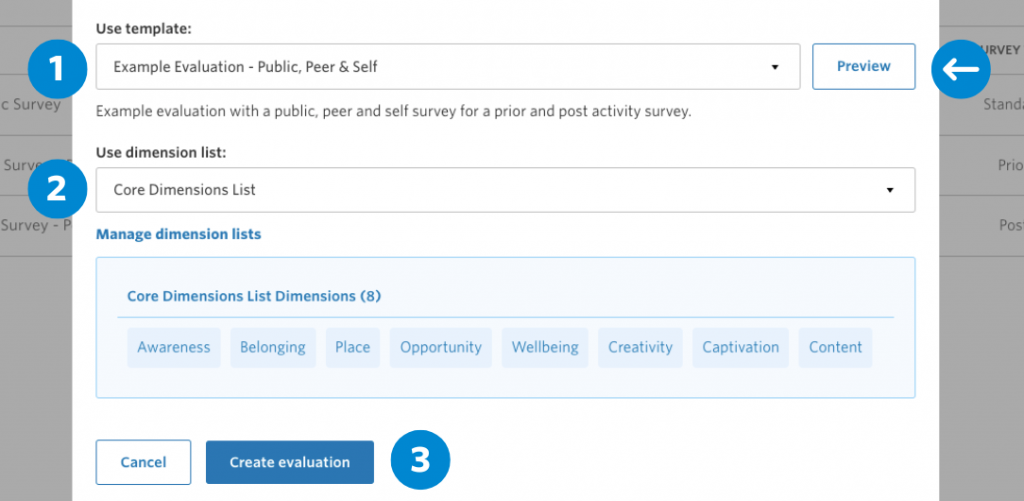 Survey templates
Survey Templates follow our recommended format for collecting feedback and structuring question order. There are three types – Public Libraries Evaluation Network (for PLEN participants), Example Evaluation or Event Templates.
Public Library Evaluation Network (PLEN) Templates
The PLEN templates contain a selection of library outcome metrics and are designed to be deliberately short and easy for people to complete. These templates are only available to PLEN participants. For more information about the network and how to join, visit the PLEN Hub.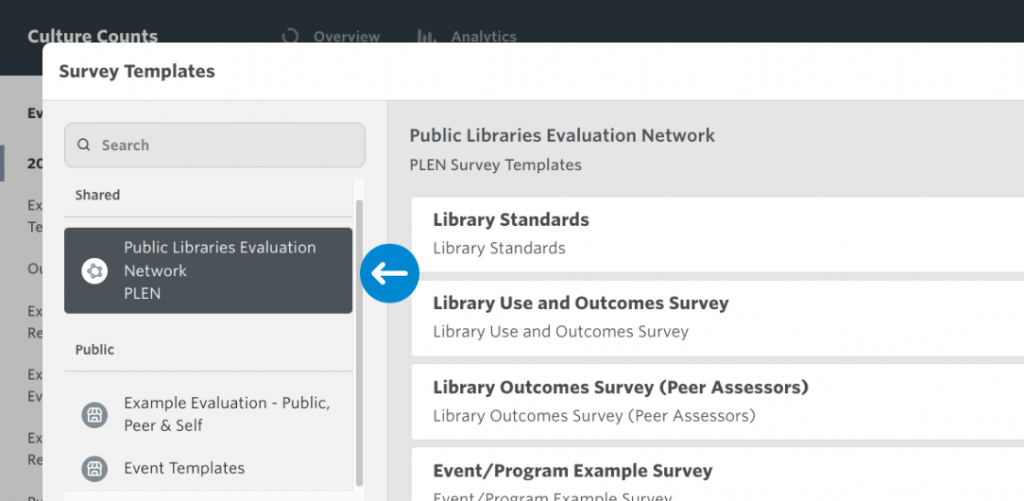 Example Evaluation Templates
The Example Evaluation contain an example of a standard Public Survey, a Prior Survey (self and peer), and a Post Survey (self and peer).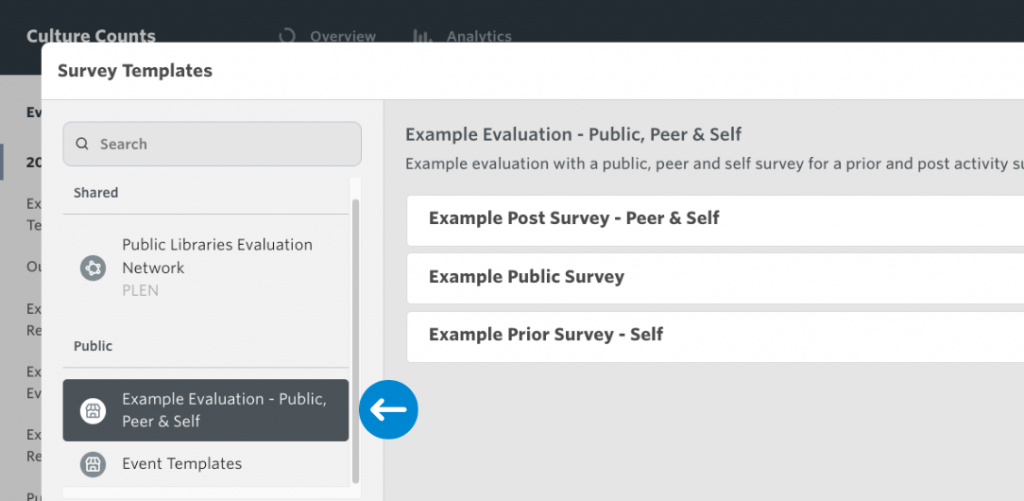 Event Templates
Event Templates are commonly-evaluated activity surveys with standard questions and metrics that align to our best-practise survey structure. Users can select from a list of activity types and then tailor the survey to their needs.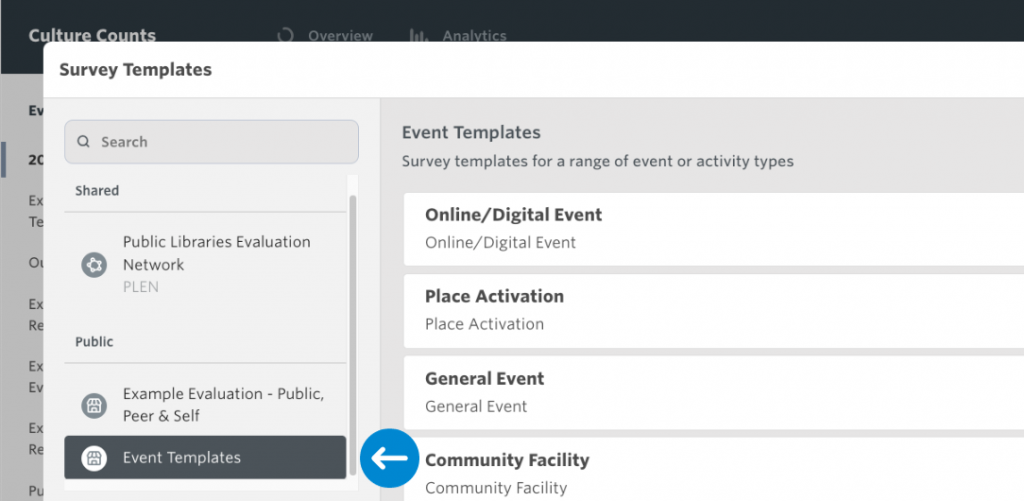 Currently, there are seven event templates to choose from:
Performance: Evaluate audience outcomes for performances.

Workshop & Programs: Collect feedback on learning and skill development programs.

Community Facility: Ideal for capturing feedback about community spaces.

Place Activation: Measure the success of site-specific activations and events.

Family Event: Useful for family-oriented events and participant groups.

Online/Digital Event: Geared towards capturing insights on virtual events and experiences.

General Event: A versatile template suitable for any event evaluation.
Once you select the group on the left menu, a list of its underlying surveys appears. Select the survey template you want to use. You can choose to preview the questions within the survey or if you have a custom dimension list, you can also pre-fill a survey template with those dimensions, if the survey supports this.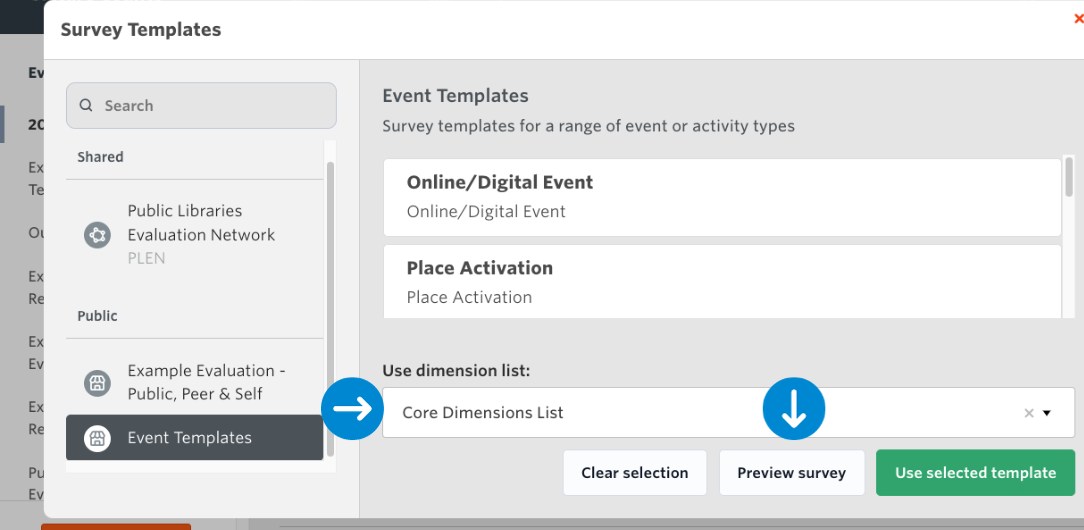 When you are happy with your selection, click the 'use selected template' button to create the survey. Once created, you will be directed to the configure page of the survey to start setting it up.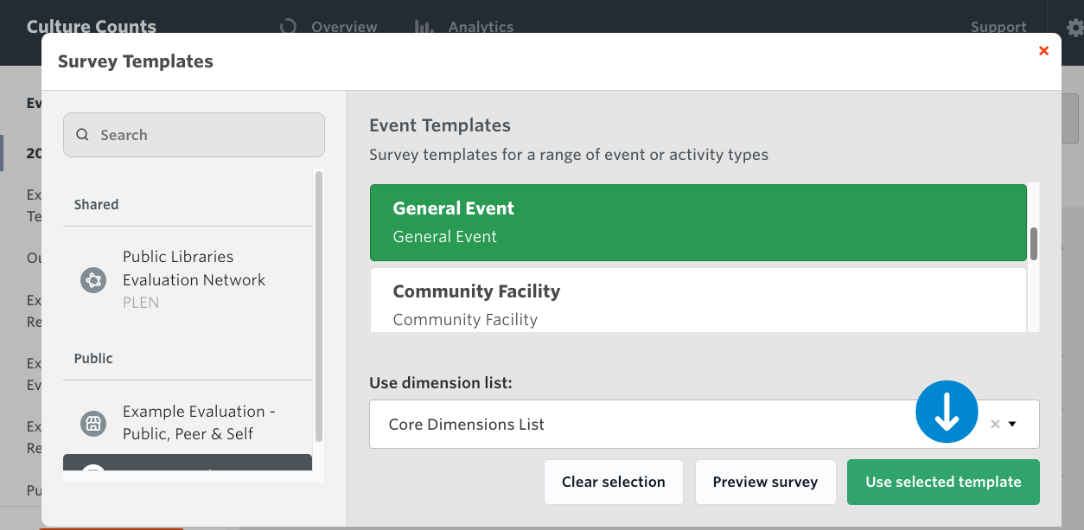 Additional Resources
Was this helpful?
Let us know if you liked the post. That's the only way we can improve.