Share an evaluation
If you are collaborating on an event or program with another organisation that also uses Culture Counts, you may choose to share the Evaluation with them in the platform.
If you'd like to share your Evaluation, click on the Edit dropdown at the top right of the Evaluation screen and select 'Sharing Options'.
A 'Sharing Options' pop-up window will appear on the screen. Input the email address of the Culture Counts user that you'd like to share the Evaluation with and select the level of permission that you'd like them to have within the Evaluation and Surveys you've created.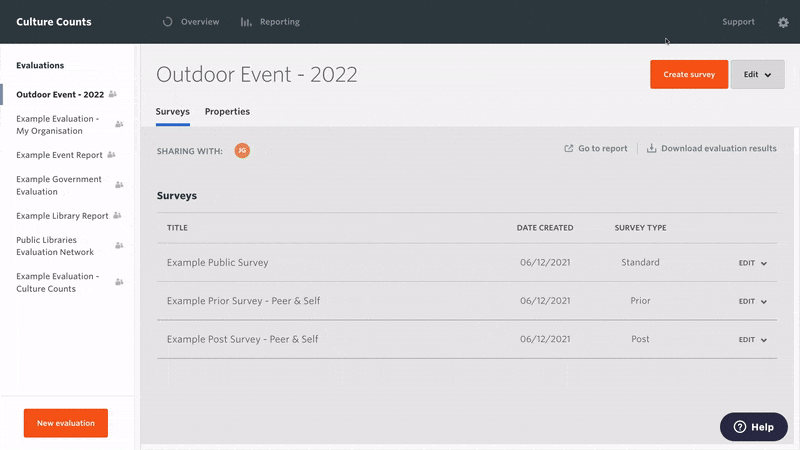 Viewer: Can view evaluation only. Cannot make changes, invite new users or update permissions.
Editor: Can view and edit the evaluation. Cannot view postcodes in the CSV download.
Admin: Can view and edit the evaluation. Can invite new users and update permissions. Can archive the evaluation. Can view postcodes in the CSV download. Can download email addresses collected via the surveys.
Creator: Same permission as 'Admin', except this user created the evaluation.
As an example, you may choose the 'Viewer' setting if you would like the user to be able to look at your evaluation and results but not edit it in any way.
Assigning someone as an 'Admin' will give them the same access to the evaluation as you. This option is best for collaborative evaluations, where both users or organisations want to share the creation and editing of their event surveys, and have equal access to the results.
Was this helpful?
Let us know if you liked the post. That's the only way we can improve.