Question types
Under the Design tab in the Culture Counts survey builder, you can choose from many question formats that will help you to get the information you need from respondents.
In order to add content to your survey, make sure that you are in the Design page of the platform. Simply click on the type of question or content that you wish to add from the left panel, select the option(s) for that question that you desire, and your chosen question will appear in your survey.
The following question types are pre-built into the platform. Using these pre-built questions will mean the data will appear in the reporting section under these headings.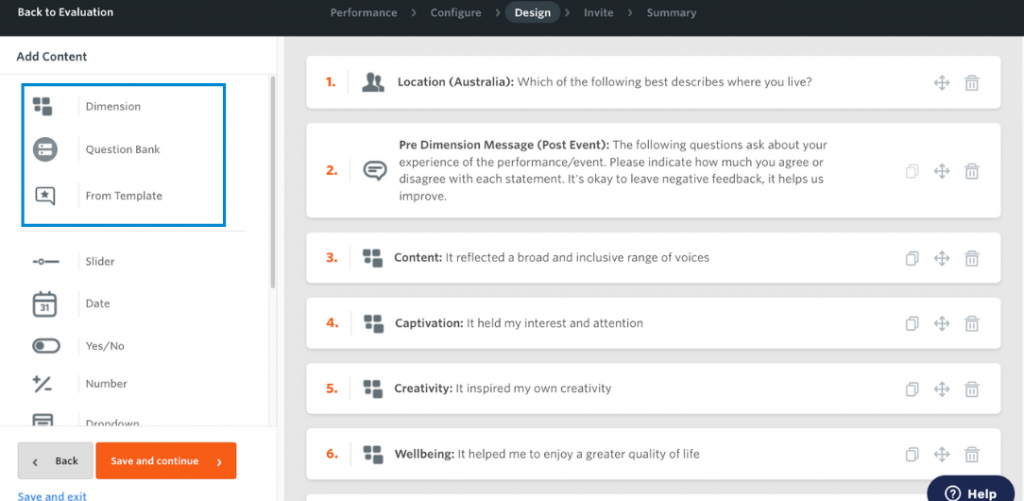 Dimension statements: A standardised statement that respondents can agree or disagree with, rated along a slider. Culture Counts dimensions are based on extensive research in each sector in order to identify the key elements that make up the quality of an activity, event, program or place. These elements have been translated into single statements or 'dimensions' to be measured using Culture Counts surveys. Click here for more information on dimension statements.
From Template: If you create a survey from a pre-existing template, all the questions that were in the template are available in this window. This means if you delete a question that was sourced from the template and would like to re-add it, you can do so here.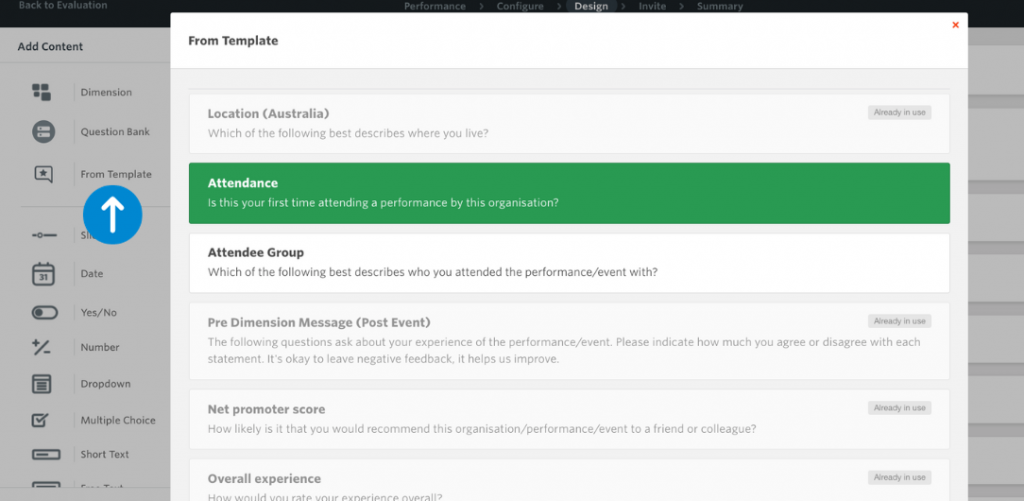 Question Bank: A library of commonly asked, predefined questions which you can browse through and easily add to your surveys. The Question Bank will help you to save time when writing commonly asked questions, enable you to maintain consistency across your evaluations and can be a source of inspiration when designing new surveys. There is are currently questions available in these categories:
Qualitative Feedback: helps you measure individual views and opinions

Marketing: captures event information source

Patron Behaviour: records attendance frequency and intent

Experience: measures overall satisfaction and brand loyalty

Tourism: helps you measure additional spending and stay duration

First Time: captures first-time attendance, participation or engagement

Demographic: captures gender, identity and location
Custom Question Types
You can use the following question types to design your own custom questions.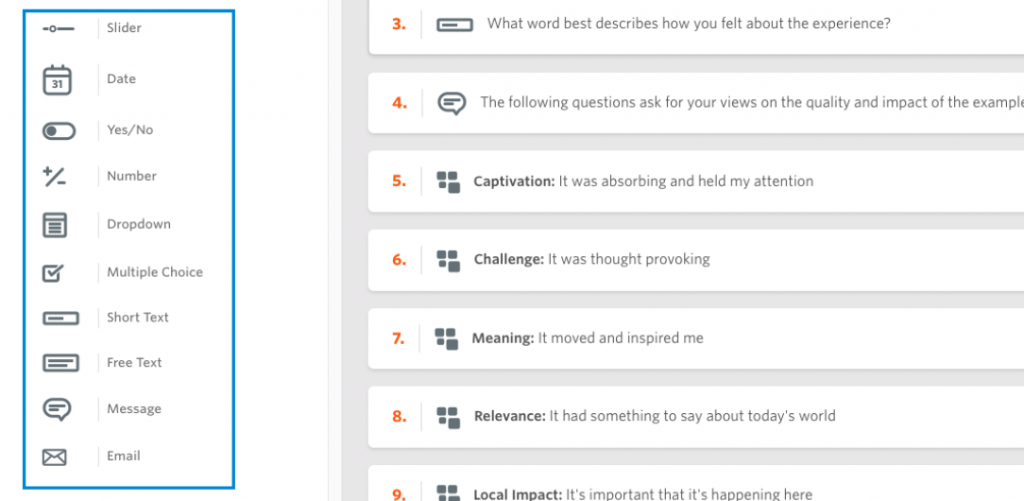 Slider: A simple slider input, where responses are recorded along a slider that ranges between three values. By default, these are "Strongly disagree", "Neutral", and "Strongly agree."

Date: Provides a date input where respondents can nominate a date from a calendar.

Yes/No: Gives the respondent two options to choose from, which default to "Yes" and "No".

Number: A basic number input, where numbers can be input by either typing, or changed by up and down arrows. Minimum and maximum values can be specified.

Dropdown: Provides a dropdown list, where respondents can answer by choosing one of the options.

Multiple Choice: Provides a selection of answers, of which respondents can answer by selecting one or more of the options.

Short Text: A short text input designed for smaller input types, such as one word answers (up to 12 characters).

Free Text: A simple text input that allows respondents to type an answer or comment.

Message: This displays a message within the survey but does not require respondents to provide an answer. It is typically used to provide respondents with additional instructions or context.

Email: This content option provides a section to ask for respondents' email contact information. It is a simple text input designed to recognise if the text entered is an email address.
Was this helpful?
Let us know if you liked the post. That's the only way we can improve.