Archiving evaluations
If you find yourself wanting to remove an evaluation or survey from your dashboard, you can do so by using the archive function. Archiving a survey or evaluation will remove it from your dashboard, and is similar to deleting it, except that it will not delete any associated data. Before choosing to archive an evaluation or survey, note that you will have to contact your Client Manager in order to recover it.
Archiving an evaluation
By archiving your data, you are able to separate current data from data that is no longer needed without deleting anything. The files that are archived can be retrieved and this process is often used for long-term data storage.
You can archive an evaluation by clicking into the evaluation you wish to archive and then clicking Edit on the top right corner. From the drop down you can then select Archive.
You will then be prompted to confirm or leave this process. Click Yes, archive this evaluation if you wish to continue. This will archive the evaluation, including all of the surveys within it. If you are a Creator or Admin of an evaluation, you also have the option to archive the evaluation for everyone it is shared with. This is useful when a project is no longer relevant, or you simply want to remove it from their dashboards. This will not remove their share on the data, however, and they can restore it themselves if they want to continue using it.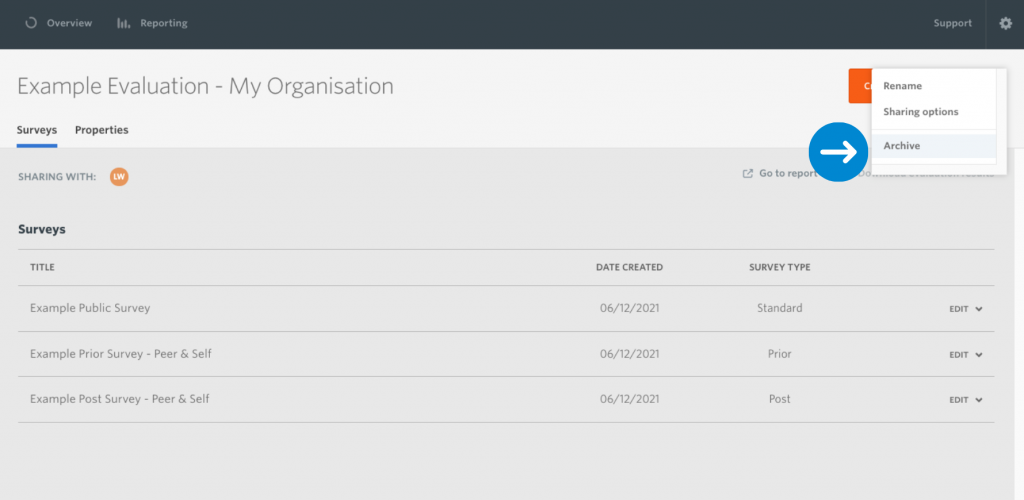 Archiving a survey
This is a similar process to archiving an evaluation. If you wish to archive a specific survey within an evaluation you can by clicking Edit next to the survey and from the drop down list select Archive. Again, you will then be prompted to confirm or leave this process. Click Yes, archive this survey if you wish to continue.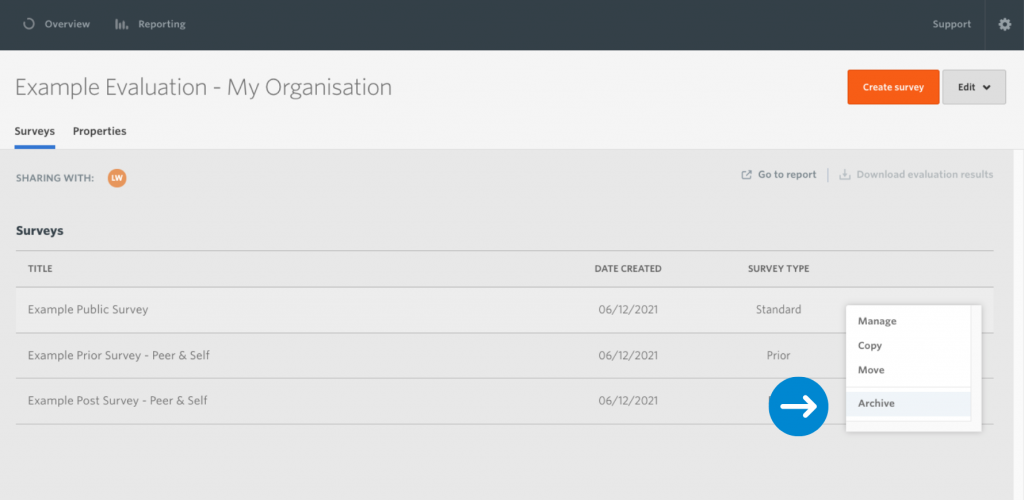 Recovering an archived evaluation or survey
Evaluations and surveys that are archived are not permanently deleted and can be recovered if required.
To recover an archived survey or evaluation you will need to contact our support team. Be sure to mention your organisation name, and the evaluation or survey name that you would like recovered in your support request.
Was this helpful?
Let us know if you liked the post. That's the only way we can improve.