Setting up a new evaluation
To create a new evaluation, simply click on the New evaluation button at the bottom left of the Evaluations panel in the platform.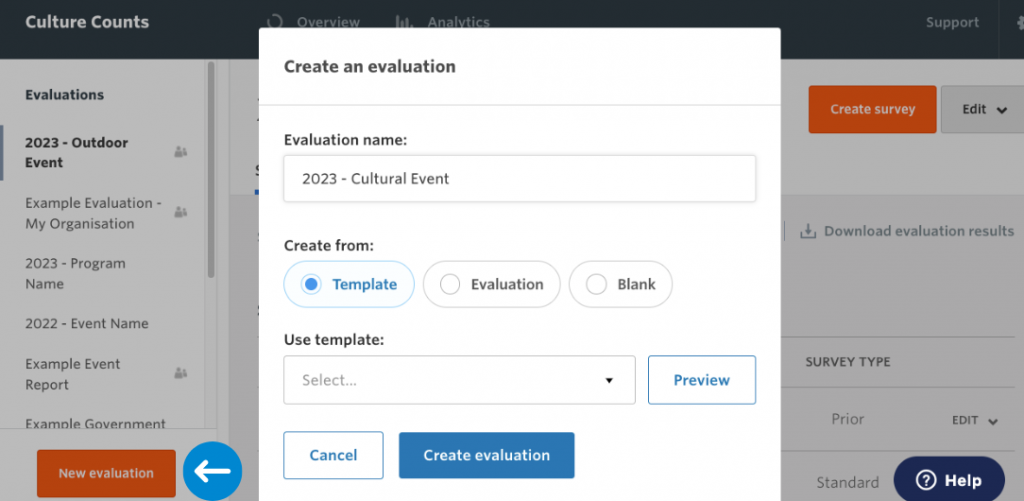 You will be asked to name your evaluation (usually the name of the activity you are evaluating) and be given choice of creating an evaluation from three options:
Blank: Select this option to creates a brand new evaluation evaluation from scratch.

Evaluation: Select this option to create a new evaluation by copying an existing one. This could be an evaluation you have already built or one that has been shared with you.

Template: Select this option to create an evaluation from a template. Templates let you pre-fill the surveys with dimensions. You can find out more about dimensions here.
What are evaluations?
Evaluations are like folders and your surveys sit within these folders. With this, you can name and group your surveys in a way that makes sense, such as by activity type.

For example, you may have an evaluation called 'Community Activities'. Within that evaluation you would then have multiple surveys for all the community activities you were evaluating.

Another example is to group different surveys for the same activity within one evaluation. For example, if you wanted to survey artists, audiences and peers as part of an event, you may choose to create three different surveys. You would then group these surveys under a single evaluation, like 'Cultural Event 2023'.
Additional Resources
Was this helpful?
Let us know if you liked the post. That's the only way we can improve.