Distributing surveys
The Summary page will contain the links (URLs) for your survey. There are three delivery types which you can choose from to distribute your survey. These can be set up on the Configure page of your survey design and a unique survey link will be generated for each method and will be displayed clearly on the Summary page at the end of the survey builder.
Online: This link can be emailed out to ticket-holders or your database, or shared via social media. This link will only allow one response per device (laptop, tablet or phone). This is best for individual respondents.

Interviewer: This link will allow you to load your survey onto a tablet, or portable device so you can collect survey responses in person via Interview mode. This link will allow you to collect multiple responses per device.

Display: This link can be loaded onto a stand-alone device (for example, a tablet in a foyer or information desk) and will refresh a new survey after each one is completed. This will allow a number of respondents to complete the survey unprompted in their own time within your venue. This link will allow you to collect multiple responses per device.
Select all of the methods that you wish to use to deliver your survey. You can use any or all three methods and where possible, we recommend offering multiple access points to your survey to avoid survey bias.
Before distributing the survey, we recommend you click on the eye icon to the right of the survey link to preview your survey and ensure that it looks just as you intended it to. The Preview link will open the survey in a new tab for reviewing, but will not record any data.
To distribute a survey, simply click the double page icon to the right of the link/s you would like to use, to copy them and use them in the relevant locations.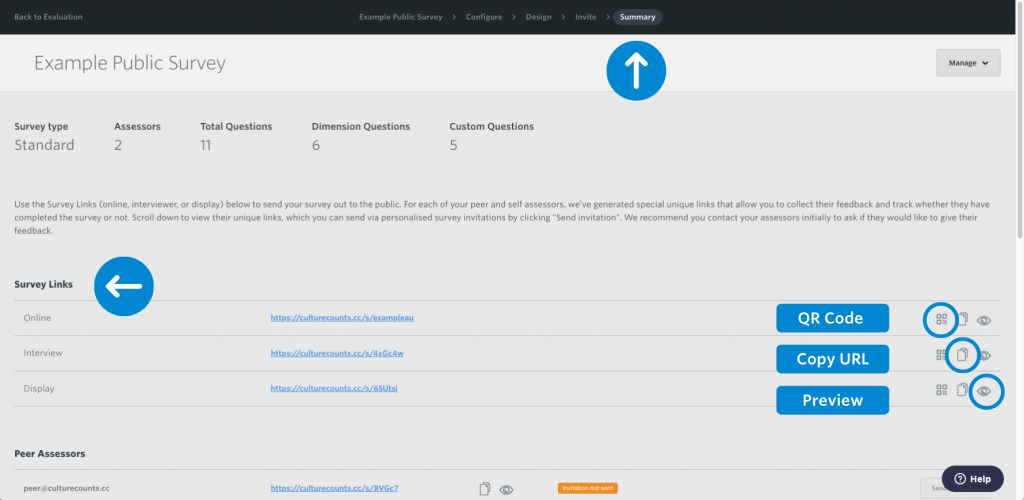 For example, for a survey to be administered by in-person interviews, enter the Interview link into the browser of your iPads or tablet computers.

For a survey to be distributed via email, copy the Online survey link and paste it into the email you are sending to public respondents.

You can also distribute your survey via a QR code for Online, Interview or Display surveys. Click the 'Generate QR Code' icon on to download your QR code.
Additional Resources
Was this helpful?
Let us know if you liked the post. That's the only way we can improve.