Distributing surveys
The Summary page will contain the links (URLs) for your survey. There will be a separate URL for each of the different delivery types that you selected at the Configuration stage (i.e. Online, Interview, Display). It is integral to use the correct one for each method, as the links have been optimised for that type of delivery.
If you are looking to distribute your survey to Peer and/or Self respondents, view these instructions regarding how to use the Invite function.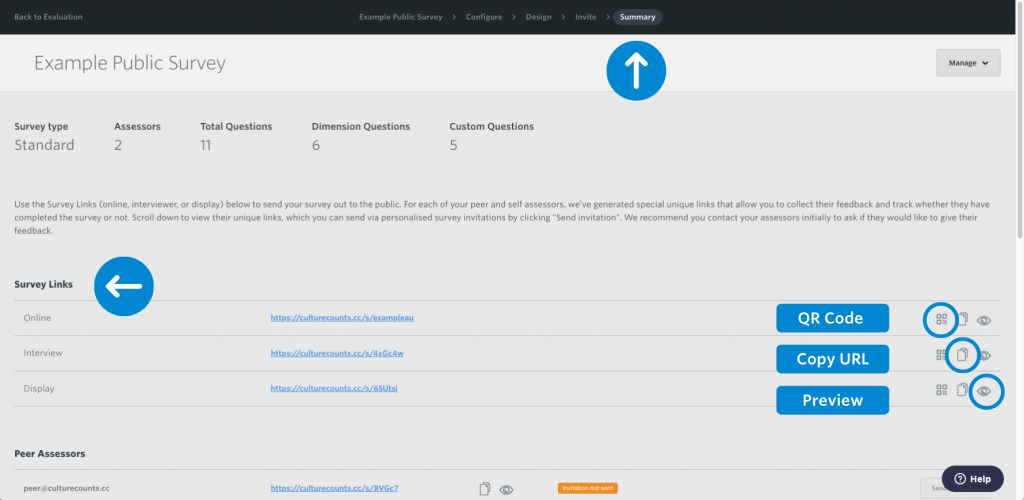 To distribute a survey, simply click the double page icon to the right of the link/s you would like to use, to copy them and use them in the relevant locations. For example, for a survey to be administered by in-person interviews, enter the Interview link into the browser of your iPads or tablet computers. For a survey to be distributed via email, copy the Online survey link and paste it into the email you are sending to public respondents.
Before distributing the survey, we recommend you click on the eye icon to the right of the survey link to preview your survey and ensure that it looks just as you intended it to. The Preview link will open the survey in a new tab for reviewing, but will not record any data.
Additional Resources