What is Culture Counts?
Culture Counts is an online evaluation platform and accompanying metric framework that empowers users to build surveys and collect responses with ease, and to use this data to quantify the outcomes generated by an activity.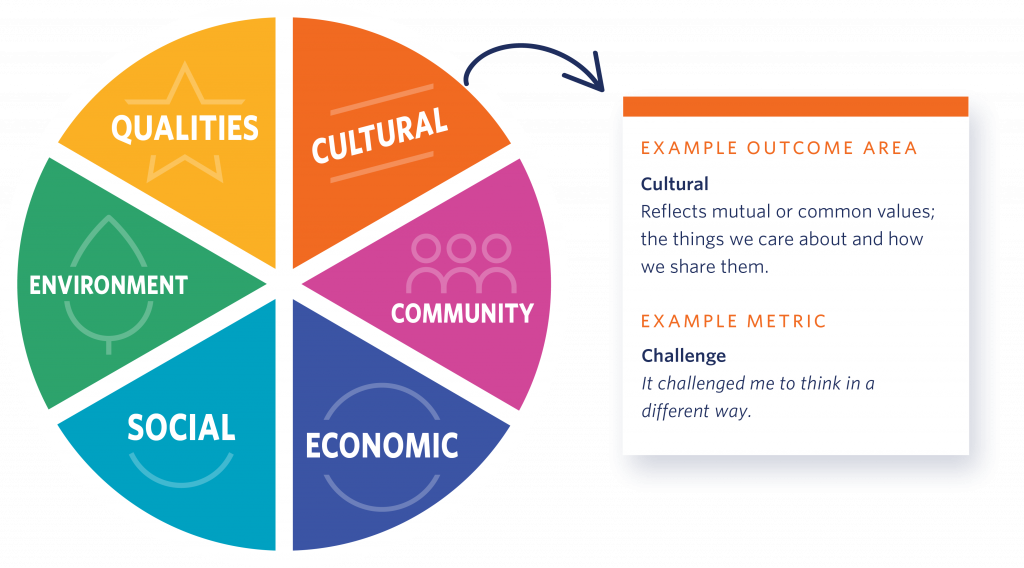 The system can be used to assess any investment or event that has an intrinsic impact on individuals and the community, including; arts and cultural events, libraries, health and wellbeing, sport, placemaking activations, and more.
The platform gives users access to 100+ standardised outcomes metrics, known as 'dimensions', that have been developed through extensive work with the sector that covers cultural, social, civic, environmental, economic, and quality outcomes. Metrics can be chosen to suit a specific need or context and they use standard language that allows for events to be benchmarked nationally and internationally and for performance to be tracked over time. Users also have the ability to tailor their survey using a range of custom question types available in the survey builder.
Access to the platform is subscription-based, providing users with the ability to create their own evaluations and reports. Culture Counts also offers a number of additional services, such as strategic alignment (metric selection), survey development, data analysis, and reporting, which can be purchased by clients based on their own internal needs and resourcing.
Culture Counts is founded on using evidence to drive better outcomes. Public feedback leads to decision-making and targeted spending that aligns with public needs. Greater public engagement promotes inclusive, engaged, dynamic, culturally rich, and vibrant communities.
Was this helpful?
Let us know if you liked the post. That's the only way we can improve.