Invite Self and Peer assessors
One of the core functions of the Culture Counts platform is the ability to invite and manage Peer or Self assessors who you have asked to respond to your surveys. This is done easily from the Invite page of the survey builder platform.
Simply type in the email of the Peer or Self assessor you wish to invite in the email field.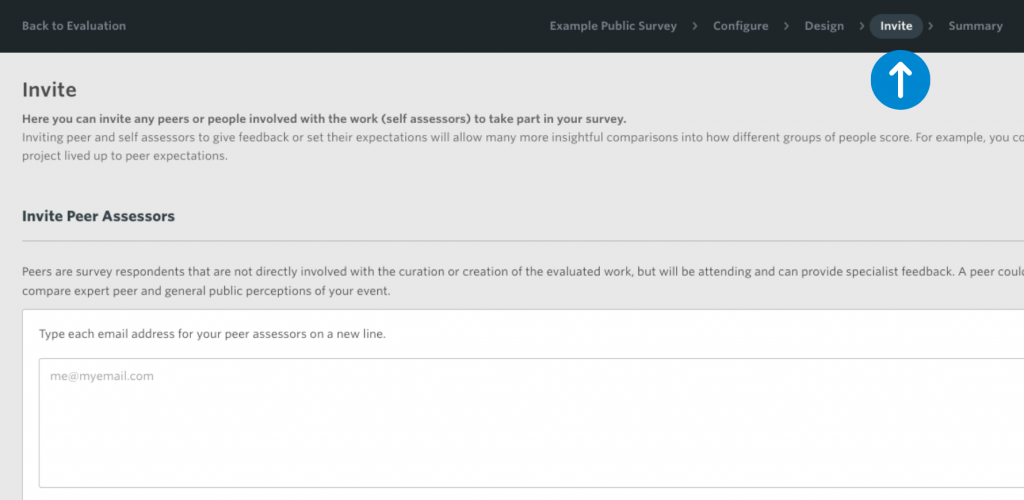 Once you have nominated your peer and self assessors, the easiest way to distribute a survey to them is to send email invitations via the Culture Counts platform. If you scroll to the bottom of the survey Summary page, you will see that the system automatically generates a unique link to the survey for each of your nominated self and peer assessors. Each self and peer assessor must be sent his or her own unique link, and it's easy to do this via the platform. On the Summary page, click the Send invitation button next to your first self or peer assessor. A dialogue box will open to allow you to draft your invitation email. The unique survey URL for that particular respondent will automatically be included in the email.
Note that you can communicate with your self and peer assessors outside the Culture Counts system – for example through your own email account – if you prefer. However, to ensure that responses are recorded against the correct user category and the data shows up correctly in the reporting pages, peer and self assessors must take the survey via the unique URL that the system generates for them. At the Invite stage of the survey builder, enter the email addresses of each of the self and peer assessors that you are inviting to take part, and make sure that you send each assessor the unique URL that will be generated next to their name in the Summary page.
If you are asking self and/or peer assessors to complete both a prior and post survey, you need to invite each assessor to complete the prior survey first. Within each prior survey, Culture Counts automatically asks respondents when they are planning to attend the event. This date will show up in the survey Summary page, along with notification that the peer or self assessor has completed their survey. You will know to send self and peer assessors their links to the post-event survey once they have completed the prior survey and attended the event.
Was this helpful?
Let us know if you liked the post. That's the only way we can improve.