Outcomes Framework
The Culture Counts Evaluation Platform contains over 100 inbuilt metrics, designed to measure outcomes associated with cultural and community experiences. These metrics are known as 'dimensions' and have been developed, tested and refined with the sector.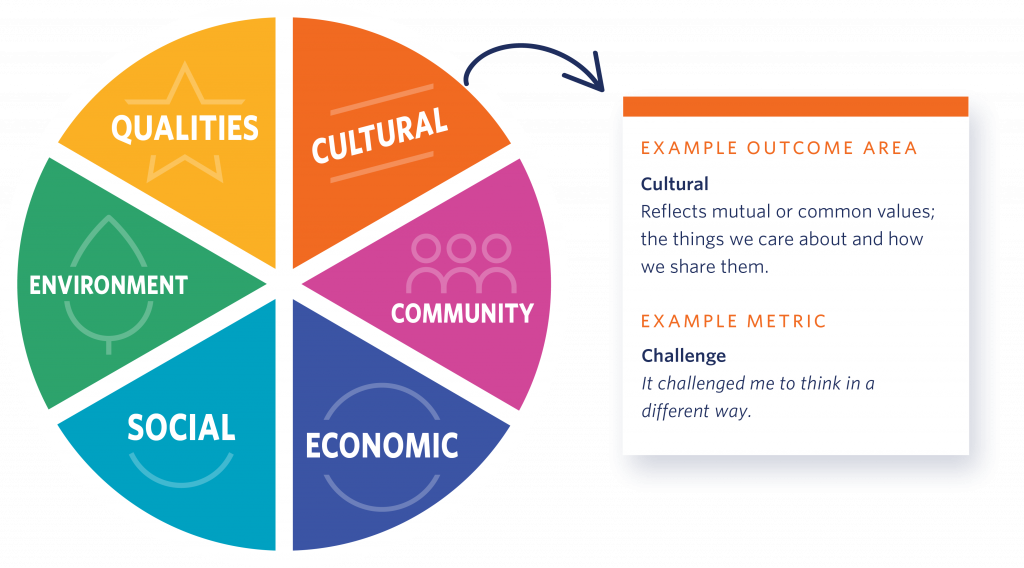 The use of consistent dimensions enables easy data collection across the following overarching domain categories:
Cultural: Encourages appreciation and engagement with new and diverse cultural experiences, expanding knowledge and insight, and stimulating creativity.

Social: Improves personal and social wellbeing to support healthy, safe, and inclusive communities.

Community: Strengthens ties between communities and their places.

Economic: Promotes dynamic and resilient local economies that are required to sustain vibrant communities.

Environment: Increases awareness of environmental issues and connection to the natural world.
The Culture Counts Evaluation Platform also includes sets of Qualities and Placemaking dimensions to help organisations measure the qualities and attributes of their activities and places consistently:
Qualities: Subjective assessments about the experience, content or perception of an artwork or performance; or the quality of the facilitation of a participatory process. These are the qualities of a work that may enable other outcomes.

Placemaking: About the qualities and amenities of the environment and activations in a particular place.
By using these standardised outcome measures, alongside outputs such as membership numbers, attendance figures and lending statistics, organisations can generate comprehensive insights and reinforce the importance of investment in their organisation and the sector.
Additional Resources
Was this helpful?
Let us know if you liked the post. That's the only way we can improve.