Example evaluation
We have created an Example Evaluation to give you some insight into how Culture Counts recommends designing evaluations.
The example surveys contain three surveys and a a set of standardised statements known as 'dimensions'. Dimensions are a key part of the Culture Counts Evaluation Platform. You can find out more about dimensions here.
The Example Evaluation contain an example of a standard public survey, a prior survey (self and peer), and a post survey (self and peer). We suggest that you start by browsing through the surveys in the Example Evaluation to see how they have been set up.
There is also example response data for this evaluation in the analytics dashboard, if you would like to review what the results could look like!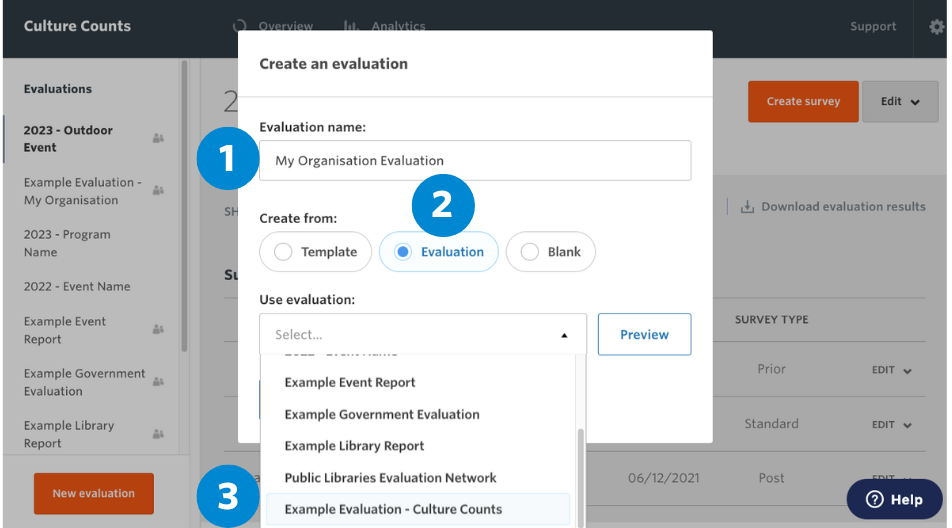 Please note: The Example Evaluation is a shared resource that is available to all Culture Counts users. You therefore will not have the ability to edit them. You will need to copy the surveys first before you start editing them.
What are 'prior' and 'post' surveys?

Culture Counts supports the concept of creating surveys for collecting evaluation data at different points in time. You can select the survey type within the configure menu of any survey.

Prior surveys allow you to record the expected performance of an activity, to later compare with how the activity was actually perceived.

Post surveys can be linked to Prior Surveys, allowing for you to compare results for dimensions.

These types of surveys are only suggested for peer or self assessors. For normal surveys, we recommend sticking to the standard survey type. You can find out more about survey types here.
Was this helpful?
Let us know if you liked the post. That's the only way we can improve.